Diamond Heart Pendants
crown heart pendant
Diamond Heart Pendants
Diamonds
Pendants
The heart shape has been cherished as an enchanting symbol of love and affection across cultures for centuries. Its evolution in fashion accessories is a further nod to its contemporary appeal and enduring popularity.
Heart designs in modern jewelry represent a fascinating mix of style and allure. When enriched with diamonds, they make ideal gifts to express love on special occasions like Valentine's Day, anniversaries, etc.
Let's unravel the riveting history of diamond heart pendants and discover the meaning of hearts in jewelry.
A Brief History of Diamond Heart Jewels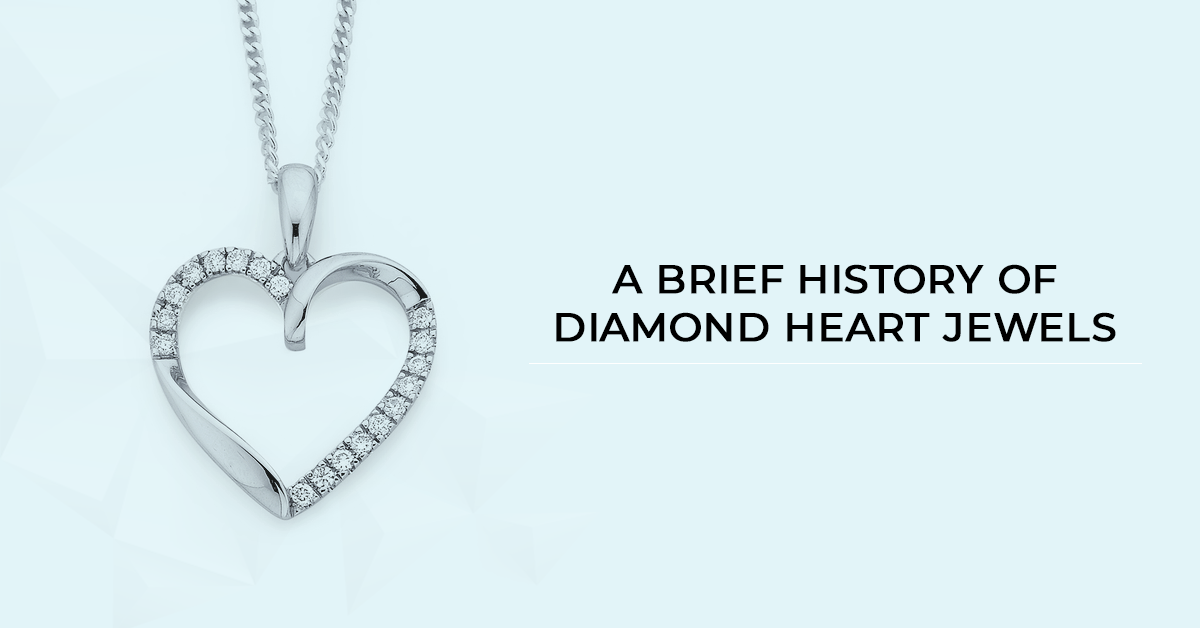 The lineage of heart jewelry dates back to ancient times. The earliest use of the heart design was found in ancient cultures in Africa, Asia, and Europe.
During the 15th and 16th centuries, this symbol became widely popular in jewelry designs. Heart-shaped lockets, rings, and brooches symbolized love and commitment.
In 1562, Mary, the Queen of Scotland, gifted a ring with a heart-shaped diamond to Elizabeth I, the Queen of England. This is one of the well-known instances of a heart jewel being used as a gesture of goodwill and friendship.
Later, heart-shaped diamonds turned into coveted items for aristocrats and royal dignitaries. Due to their exclusivity, they were regarded as a symbol of royalty.
The 17th and 18th centuries witnessed the emergence of the witches' heart, twisted heart-shaped jewels used to ward off evil spirits. During this period, the double heart motif became popular as a symbol of commitment.
The Victorian era further contributed to the popularity of heart-shaped diamond jewelry. Queen Victoria herself used to wear a bracelet adorned with heart-shaped charms, which represented her children.
Today, diamond heart pendants have evolved into symbols of love and admiration.
Significance of Heart-Shaped Pendants
The significance of a heart-shaped pendant goes beyond its aesthetic appeal. Its profound meaning lies in the depth of its symbolism. The heart design embodies love in various forms, such as romantic or familial love, friendly affection, and more. It also represents self-love.
When gifted, this accessory signifies celebrating the bond between two individuals. In certain cases, a pendant with a heart design also serves as a reminder of cherished memories.
A diamond heart pendant can also be worn as a trendy style statement.
Ultimately, interpreting a heart pendant is a deeply personal matter, as it resonates differently with each wearer. This unique quality is what makes the accessory truly special!
Best Selling Diamond Heart Pendant Designs for Different Occasions
Heart pendants come in exciting designs and styles that range from trendy to traditional. When enriched with the brilliance of diamonds, these pendants evolve into priceless accessories. They can make the most stunning gifts and create everlasting impressions, no matter the occasion.
The following are some of the most-loved diamond heart pendant designs:
Solitaire Diamond Heart Pendant
The solitaire heart pendant is a heart-shaped pendant adorned with a single scintillating diamond. It is a classic design that has stood the test of time.
This elegant pendant can make a timeless gift for anyone close to your heart. A gift of the solitaire heart pendant can be a great way to surprise your loved ones for their birthdays.
Solitaire diamond heart pendants can also be a great choice to express your love on Valentine's Day. It can easily convey how precious the person is to you.
Trendy Halo Diamond Heart Pendant
Featuring a trendy yet contemporary design, the halo heart pendant exudes timeless elegance. At the heart of this design is a large diamond surrounded by a ring of smaller diamonds.
The blend of diamonds in different sizes gives this design its striking look, making it an ideal gift to celebrate an achievement or milestone of a loved one. Given its significance and mesmerizing beauty, this pendant can also serve as a fantastic Mother's Day gift.
Entwined Diamond Heart Pendant
In an entwined heart pendant, two hearts carved in diamonds remain intertwined. Also known as a double heart pendant, it symbolizes romantic love and the unity of two souls.
This design celebrates the eternal bond between two hearts. No wonder the entwined heart pendant is a favorite gift option among couples. It offers a brilliant choice as an anniversary gift.
Witch's Heart Pendant
The witch's heart pendant design features a regular heart design with the bottom curved to one side.
In ancient times, such asymmetric curved heart-shaped brooches were worn as protection against ill-meaning spirits. This brooch style was known as the Luckenbooth heart in the Scottish culture.
Today, the meaning of the witches' heart jewelry has evolved, and they are now a popular fashion trend. Adorned with diamonds, the witch's heart pendants make for an eye-catching design. They are quite popular as romantic gifts if you want to bewitch the recipient.
Crowned Heart Diamond Pendant
True to its name, this pendant has a heart shape with a crown sitting on it. Etched with diamonds and crafted with a charming heart, this pendant exudes a unique grace and beauty.
Crowned heart pendants have been in fashion since the 1800s. This iconic design is a brilliant gift for an anniversary, symbolizing fidelity in a marriage. So, when an individual presents this pendant as a gift, they assure loyalty and commitment.
Open Heart Diamond Pendant
Simple, elegant, and classy, that's what the open-heart pendant is all about. The design has an open space in the middle, while the heart-shaped outline is studded with diamonds.
The symbolic meaning of this pendant is that the recipient acknowledges and accepts the love extended to them. This design also indicates a strong connection between people who aren't near each other.
The open-heart pendant design can be given as a gift on any occasion, including birthdays, Mother's Day, engagements, etc.
Wrapping Up
Gifting a diamond heart pendant is a thoughtful way of expressing how much you care for someone. Such a gift can enhance the joy of celebrating any occasion. Diamond heart pendants are equally great for romantic and familial gifts.
So, did you find the best diamond heart pendant to delight your loved one? If you are looking for more options, we have plenty of designs and styles for you to consider. Explore our exquisite collection at La Joya.
FAQs about Diamond Heart Pendants
What does the diamond heart necklace mean?
A heart-shaped diamond pendant necklace is an accessory that signifies love and affection. The heart design has been used to indicate several things throughout history, including romance, friendship, and fashion. The exact meaning of wearing a diamond heart necklace can vary from one individual to another.
Is a diamond pendant a good gift?
Diamond pendants are a classic gift that can be given to show how precious the recipient is to the giver. A diamond pendant gift can be given on any special occasion and sometimes without any occasion as well.
Why are heart diamonds so expensive?
Heart-shaped diamonds are more expensive than other diamond styles as it is difficult to create the perfect symmetry for this shape. It requires expert labor and specialized tools to cut and achieve symmetry.
If you are looking for affordable options in heart diamonds, you can consider lab-grown diamonds. They offer great quality at a much lower price than natural diamonds while maintaining the same quality!