Lab Grown Engagement Ring
Black Friday
Lab Grown Engagement Ring
Engagement rings embody a silent promise of togetherness and commitment to your loved one through the highs and lows of life. It is natural to want to be extremely careful in selecting one for your partner. Engagement rings quintessentially carry brilliantly cut diamonds but take a step back for a moment.
Wouldn't it be a great idea if you could have a say in what the engagement ring should look like? La Joya's lab created diamond engagement rings give that power back to you. The power to create a truly one-of-a-kind ring for your one-and-only.And with Black Friday deals on engagement rings coming up right around the corner, it is time to put your research glasses on and understand how to get the best deal on an engagement ring with La Joya.
The Best Deals on Engagement Rings: Why Black Friday Is the Best Time to Buy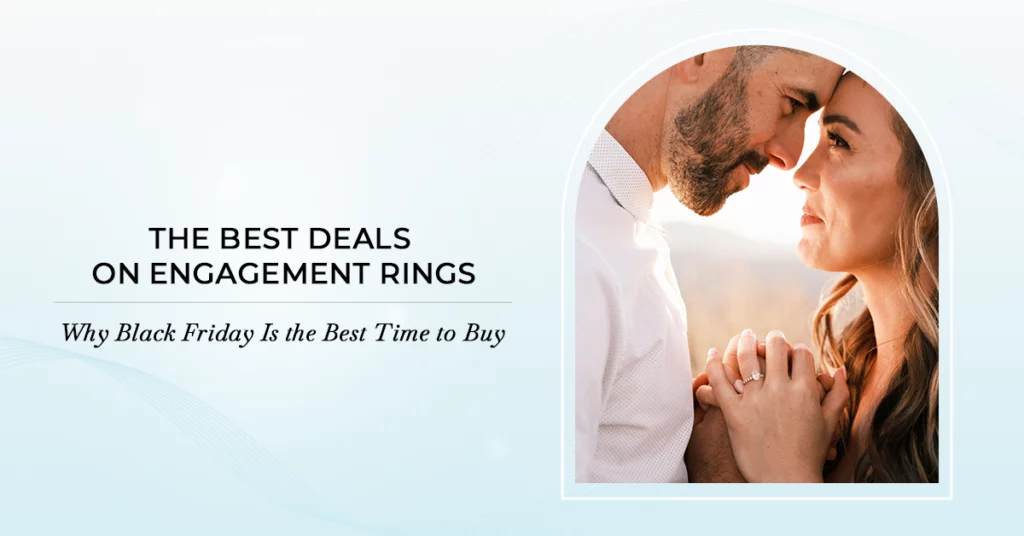 First and foremost, Black Friday deals easily beat anything else you get on the market all year round.
Especially in the case of jewelry and accessories, Black Friday engagement ring deals are the stepladder towards acquiring the perfect ring for your partner without feeling light in the pocket.
Here is an interesting fact that will help seal the deal for you: December is the most popular month for proposals. Another interesting fact is that about 86% of all engagement rings bought have diamonds.
Why is this interesting, you may wonder? Well, with December just a few weeks away and Black Friday deals beginning soon, you are in the perfect sweet spot!
La Joya's lab grown engagement rings (and all other products on the website) will feature a 20% discount to make your dream proposal a reality. It is about the right time to start planning the kind of ring you want to buy to avoid the last-minute rush!
La Joya: Spoiling for Choice
La Joya celebrates uniqueness.
Why buy a mass-produced engagement ring when your partner is one in a million?
As a gesture towards acknowledging that you are special in your way, the lab grown jewelry at their online store gives you the freedom to customize your engagement ring in countless ways and styles.
Channel Set Engagement Rings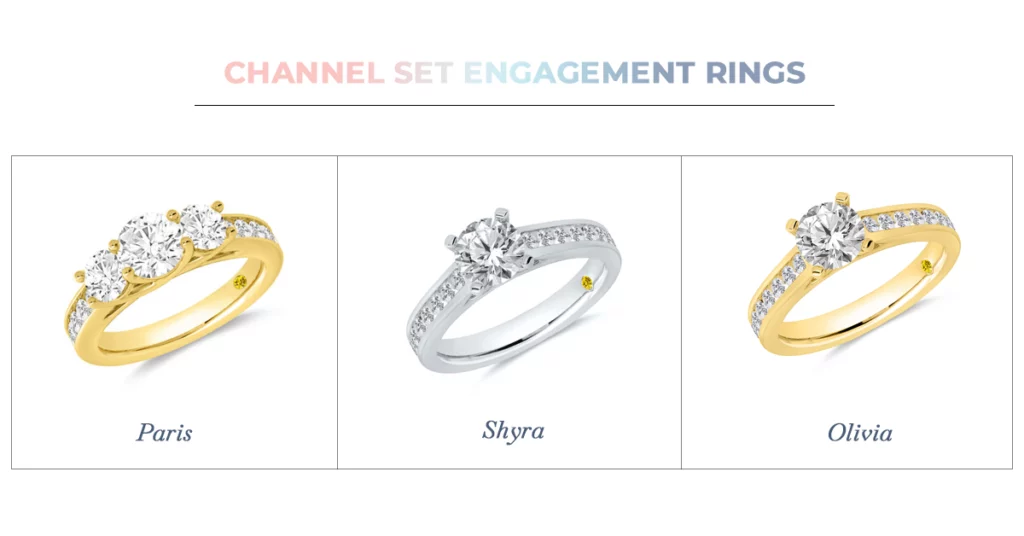 Channel set is a popular pattern of diamond rings that consists of a hero diamond at the center with a trail of smaller (but equally brilliant) diamonds on either side of it. The diamonds are set in a row between a gold band and secured in grooves on both walls of the metal.
La Joya offers distinct and customizable ring styles such as the following to choose from in the channel set range:
Model: Paris
The classic engagement ring that can not go wrong. The Paris ring has three diamonds in the center, flanked by an ornate setting of smaller diamonds on each side. It has a round, brilliant cut that signifies "Forever."
Current deal at La Joya on channel set Paris engagement ring: 25% off on 14K metal with 1.5CT lab grown diamond.
Model: Shyra
The Shyra engagement ring is a personification of elegance, with La Joya's lab grown diamond in the center commanding all attention. This channel set ring can be customized for the cut:
Current deal on La Joya Shyra channel set engagement ring: 25% off on 10K metal with 0.5CT lab grown diamond.
Model: Olivia
The most captivating channel set ring yet, Olivia features a unique pear shaped cut that is as rare as your loved one. Twinkling diamonds accompany the centerpiece to create a dazzling engagement ring perfect for your partner.
Olivia offers you five unique cuts: emerald cut, oval cut, pear cut, princess cut, and brilliant round cut.
The current deal on La Joya channel set Olivia engagement ring: 25% off on 10K metal with 0.5CT lab grown diamond.
Solitaire Engagement Rings
Solitaire is the name given to jewelry with a single, captivatingly radiant diamond.
La Joya's Solitaire range of engagement rings is currently under a whopping discount of 25% across the entire collection. Select from a range of stone cuts like oval, princess, marquise, emerald cut, cushion cut and shank type.
Model: Angi
The Angi design focuses on the glory of the brilliant round cut Solitaire that sits elegantly in the middle of the ring. The ring can be selected in white or yellow gold.
Model: Nate
The Nate comes in five distinct cuts to suit your taste: brilliant round, pear, princess, emerald, and oval. This no-nonsense design zeroes your focus into the glory of the lab grown diamond.
Model: Rein
The tendril-like, delicately twisting band balances a brilliant diamond at the apex to create Rein, a chic statement of great taste. Available in five cuts.
Model: Amba
The timeless, six-prong design of Amba lets the lab grown Solitaire steal the spotlight with no distractions. Available in pear, round brilliant, and oval cuts.
Model: Elaine
The three-prong sister of Amba, Elaine, offers a more subtle glimpse into the sparkling dimensions of the Solitaire set on it.
Model: Alice
An engagement ring that defines balance by matching the glory of the metal with the Solitaire it carries: Alice. Available in round, princess, oval, and emerald cuts.
Halo Engagement Rings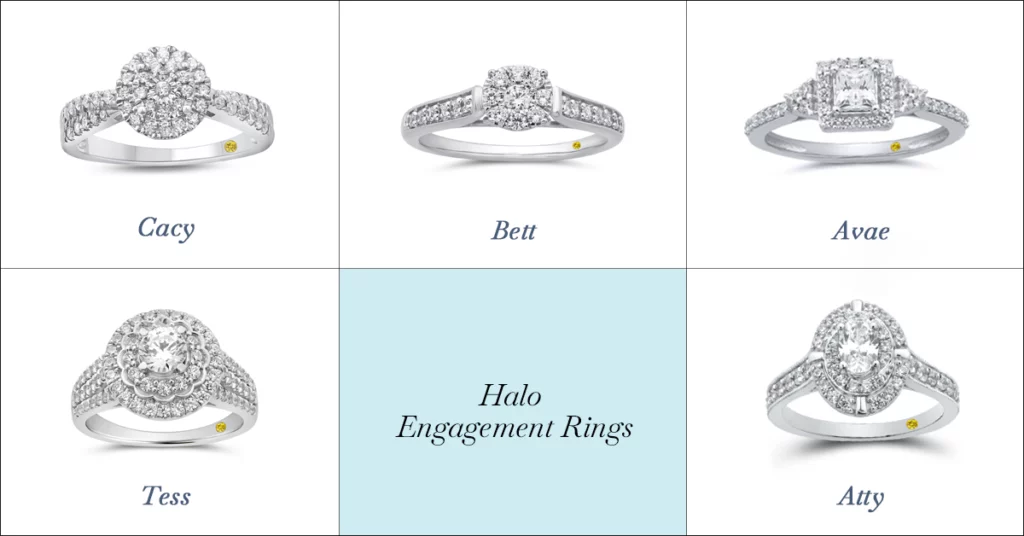 No other type of diamond ring quite calls attention to itself like a halo stone setting. The central diamond, already cut for brilliance, is encircled by sparkling rings of smaller diamonds that look like a halo around it (hence the name.)
La Joya's halo engagement ring collection features hundreds of designs – and currently, all of them are available at a staggering 25% discount. Browse through the entire range now.
Here is a sneak peek at their best-selling models:
Tess
Give your life partner the ultimate gift of everlasting love with this double-halo engagement ring.
Cacy
A statement of elegance and togetherness is embodied in this brilliant collection of diamonds on a ring.
Bett
A unique kind of halo design inspired by starry clusters in this beautiful engagement ring.
Avae
A dazzling princess cut diamond set inside a halo of smaller ones in a mix of halo and channel set designs.
Atty
Considered a royal design, this oval diamond halo engagement ring needs no consideration.
Pave Engagement Rings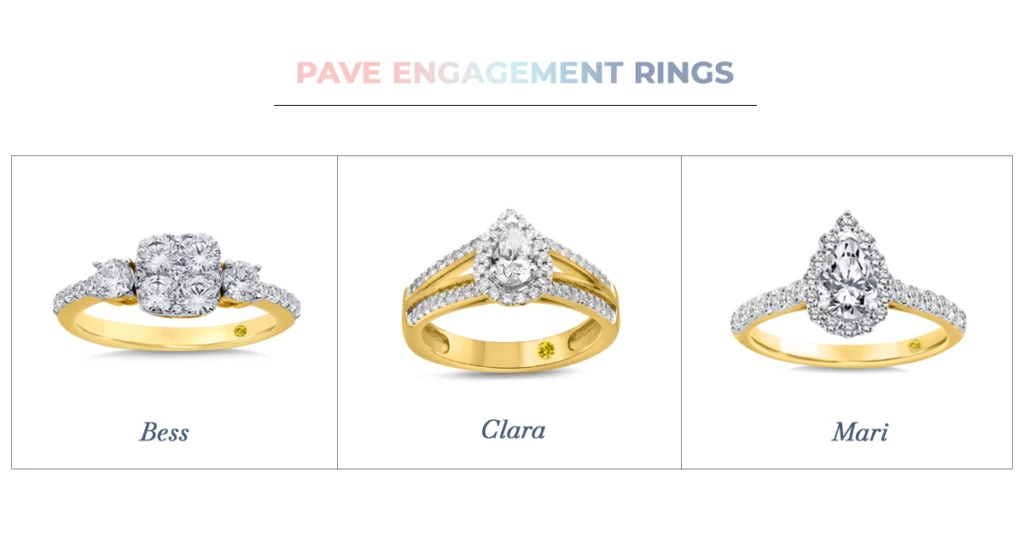 The pave stone setting may look strikingly similar to the channel set design of engagement rings.
However, there is one fundamental difference, and it is in the way the diamonds are placed on the band. In channel set rings, the diamonds sit inside a shallow "channel" chiseled inside the band – hence the name.
In pave designs, the diamonds are held via prongs on top of the band. This lends a lovely texture to the engagement ring. La Joya's extensive collection of alluring pave rings would bring joy to your partner for sure.
Currently, they are offering an amazing discount of 25% on this design. Take a look at some of the bestsellers:
Bess
A unique design created with four central diamonds flanked by more dazzle and sparkle in this pave set ring.
Clara
An impressive pear cut diamond sits at the top, complemented by pave set diamonds along twin armbands on both sides.
Mari
Made in the likeness of a crown, this diamond ring leaves nothing more to be desired.
Vintage Inspired Engagement Rings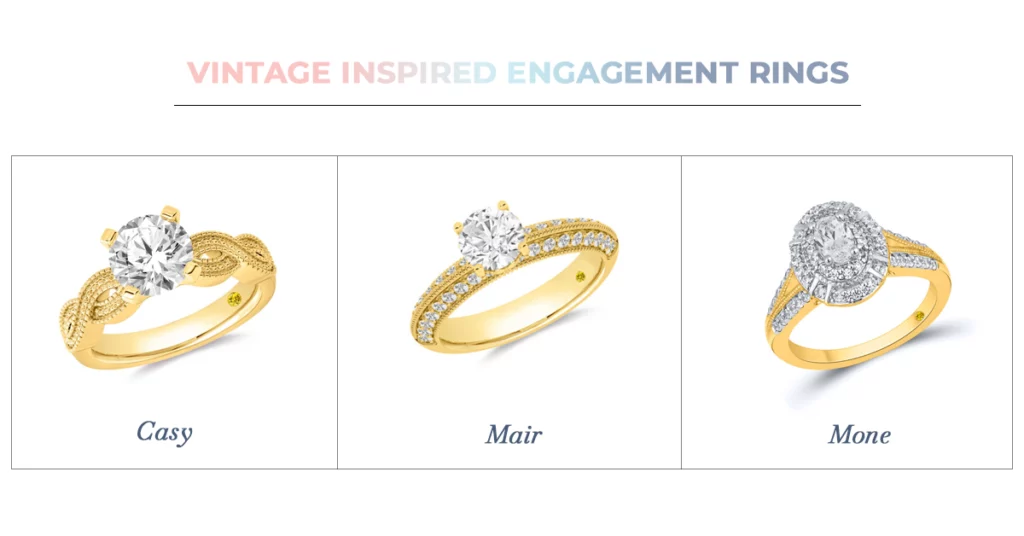 Designs and structure that have stood the test of time – both in the ring and in the bond it ties together – the Vintage Inspired range of La Joya's engagement rings are hard to take your eyes off of.
Representing timeless designs that have made their mark in your heart, every piece in La Joya's vintage collection is a piece of nostalgia.
You can buy these engagement rings at an excellent price, with a 25% discount across the entire range.
Some of the bestsellers really deserve mentions:
Casy
A stunning pear cut diamond set in three prongs on an infinity band – just like the love you share with your significant other.
Mair
A clean design that time refuses to touch, Mair is a striking round, brilliant cut diamond sitting on a pave set band.
Mone
Featuring an oval cut diamond set in a halo design, this vintage piece is a statement-maker.
Three-Stone Engagement Rings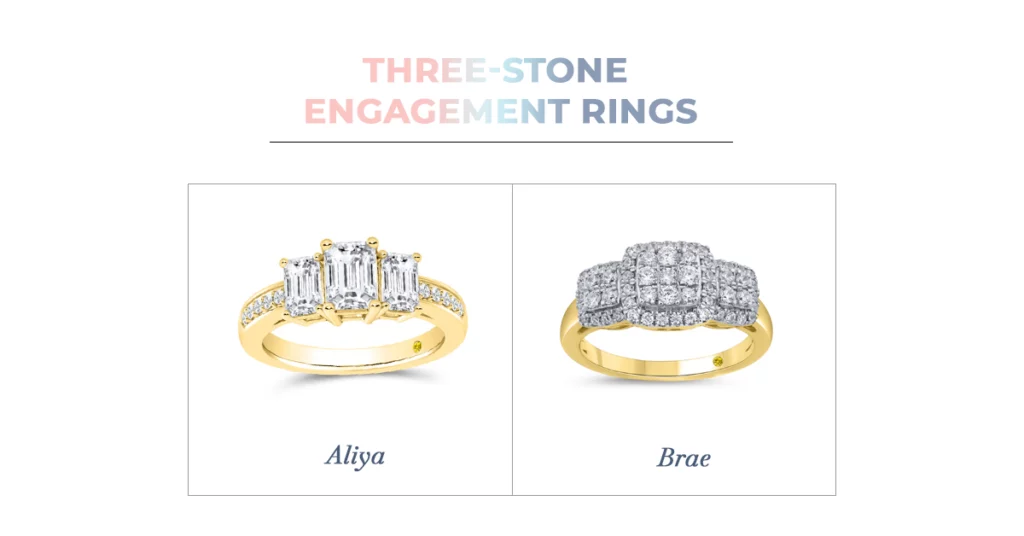 Three-stone engagement rings have a special significance. The central diamond is usually the largest, representing the "Present." The design features two more diamonds on either side of the central one, each representing the past and the future.
There is a special charm in three-stone engagement rings because of the combined brilliance of three stones instead of one. La Joya brings you a huge collection of three-stone engagement rings at a massive 25% discount.
Some of the most iconic bestsellers in this range will take your breath away:
Aliya
A stellar channel set three-stone engagement ring perfect to sweep your partner off their feet.
Brae
There is nothing quite like Brae – a ring that combines the bling of three-stone and halo designs.
It's a (Gift) Wrap!
There is no better opportunity than Black Friday deals to buy diamond engagement rings from La Joya. With the entire website running a whopping discount of 25%, you can look forward to more interesting Black Friday Deals and offers on their unique, awe-inspiring lab created diamonds.
Your partner deserves the best – and you should play it smart by searching for the best deals on engagement rings this season.
Welcome to La Joya – the most elegant diamond engagement ring you can buy for money this Black Friday and Cyber Monday.
Frequently Asked Questions about Black Friday Lab Grown Engagement Ring Deals
1. What is the difference between a pave set and a channel set diamond engagement ring?
Channel set rings have a shallow channel on the band inside of which the stones are firmly set. On the other hand, in a pave set ring, the diamonds sit on the top of the band.
2. What are the best Black Friday deals on engagement rings?
La Joya is offering a site-wide discount of 25% currently, with an extra 20% off as part of the Black Friday fest. Their lab created diamonds rings are already reasonable because they would be more than 70% cheaper than comparable rings sold by other jewelers. These are the best deals on engagement rings you can get today!
3. Why buy engagement rings from La Joya?
La Joya hails uniqueness in all its lab created diamonds. It is an earth-friendly brand with sustainable practices and a wide base of over 1 million happy customers. They offer free shipping and a 3-year care plan for your jewelry. Furthermore, their Black Friday deals are hard to beat!