Bezel-Set Necklaces
Bezel-Set Necklaces
Diamond
Necklaces
There are a variety of ways gemstones can be set in jewelry. Each setting offers a unique look to the piece and the wearer. Some of the common gemstone settings are prong setting, bezel setting, channel setting, tension setting, cluster setting, and many more.
Out of all, the bezel setting is known to be the best because it holds the gemstone in place securely. With a bezel-set necklace, you will not have to worry about losing gemstones from your prized possessions.
Do you know what is a bezel setting? If not, you are at the right place. Here we will cover everything you need to know about bezel settings.
What Is Bezel Setting?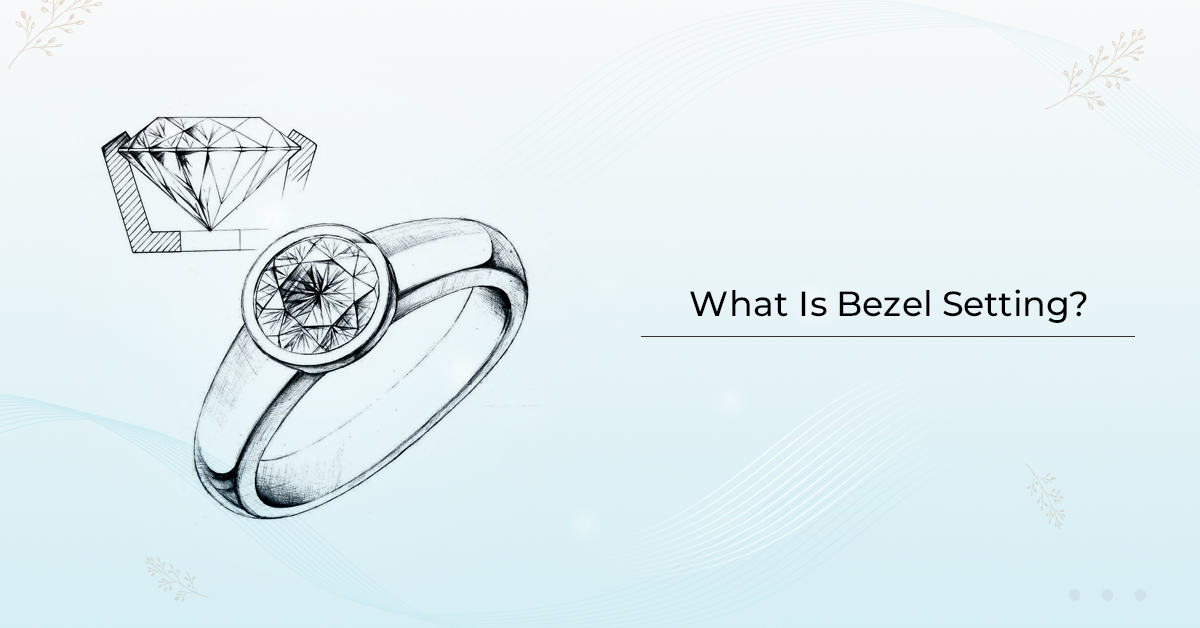 A Bezel setting or bezel set necklace is a type of jewelry in which the gemstone is set within a metal frame. The outlining frame holds the gemstone securely in place, along with providing the piece with a stylish look.
The majority of the vintage and antique jewelry can be found with a bezel setting because this was the easiest type of setting to create, along with being safe and sturdy.
What Is Bezel Set Necklace?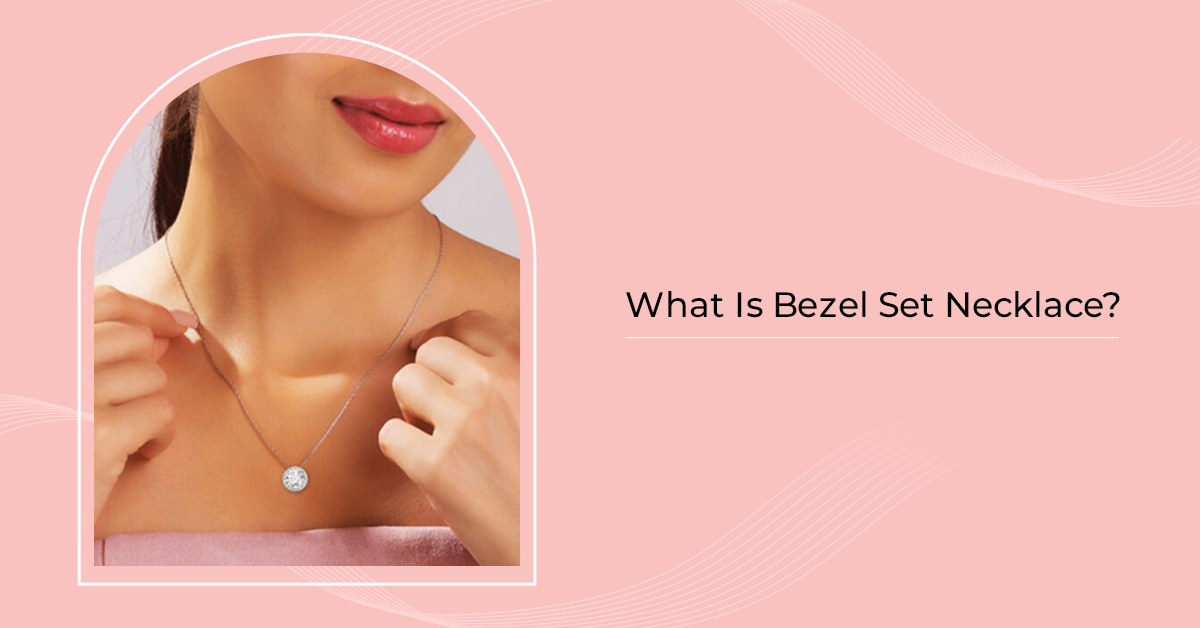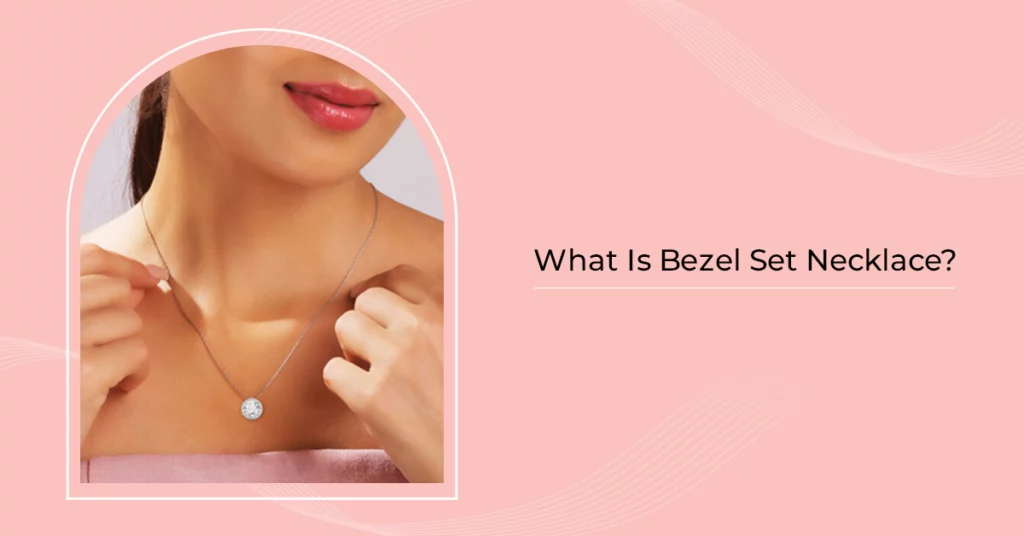 In a bezel-set necklace, the bezel-set pendant is the focal point of the jewelry piece. The gemstone in the pendant is set inside a metal rim with all the edges securely covered. The metal rim protects the pendant from unintentional friction, cracks, and dust.
The origins of the bezel necklace can be traced back to the 1600s, and it has never been out of style since then. The classic elegance combined with the modern sophistication of the bezel necklace allows the wearer to look chic.
Advantages Of Bezel Set Necklace
If you are now thinking about investing in a timeless bezel set necklace, think no more. It would be a smart choice, ideal for everyday wear and occasional formal events.
Mentioned here are some more advantages of a bezel set necklace to help you make an informed choice:
Protection
Imagine, one day, you take out your necklace from the jewelry box to get ready for your anniversary party, and you see the sapphire stone or diamond your partner gifted you are missing from its grove. You will be greatly disappointed. With a bezel-set necklace, you can save yourself from this disappointment.
In a bezel setting, the gemstone will be properly enclosed within the metal rim, saving it from accidental loosening and other potential damage. The skirting metal rim acts as a protective barrier, maintaining the timeless beauty of your necklace.
Minimalistic And Sleek Look
If you are someone who greatly appreciates a minimalistic and sleek look, then you should not think twice before investing in a bezel set necklace. The metal shield emphasizes the gemstone saving you from the hassle of adding other elements to the necklace.
The simplistic design is perfect for a modern-day understated and minimalistic look. You can pair the minimalistic piece with your formal office attire as well as your ethnic wear saree and suits.
Multiple Variety And Preferences
Along with selecting the gemstone of your choice for the bezel setting, you can also choose the metal you want for the rim.
You can choose from a wide variety of options like yellow gold, rose gold, platinum, silver, stainless steel, etc. This will make it easier for you to match your bezel set necklace with your other jewelry pieces.
Flaw Concealment
The Bezel setting is a great way of flaw concealment because the gemstone is properly enclosed within the metal rim.
Due to the secure enclosure, all the edges are properly concealed, eliminating the visibility of any internal flaws or blemishes. Additionally, flaw concealment effectiveness varies depending on the size, color, type, and clarity of the gemstone or diamond.
Unlimited Design Possibilities
Bezel set necklaces are very versatile and can be paired with all kinds of outfits like traditional, ethnic, Indo-western, western, etc. The bezel set necklaces also come with the added advantage of unlimited design possibilities and varieties.
You can experiment with the gemstone type, shape of the gemstone, length of the necklace, metal type, and much more. There is a lot of room for personalization of bezel set necklaces to cater to your exclusive style and personality.
Types Of Bezels Setting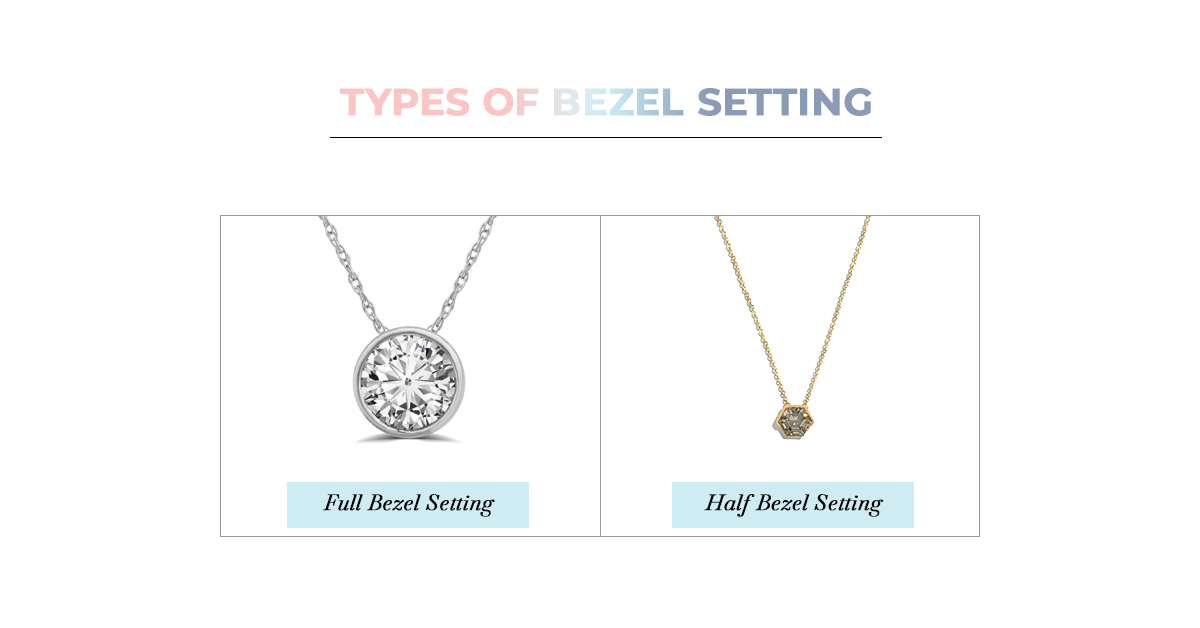 Full Bezel Setting
The full bezel setting is the most common bezel setting in which the whole gemstone is placed inside a protective metal rim. A full bezel setting is the most secure, durable, and efficient in hiding the flaws of the gemstone, if any.
Half Bezel Setting
As the same suggests, in half bezel setting, only half of the gemstone is placed in a protective rim.
The other half is left exposed, allowing more light to enter the gemstone. More light allows the gemstone to shine brighter, creating a more sophisticated and elegant look.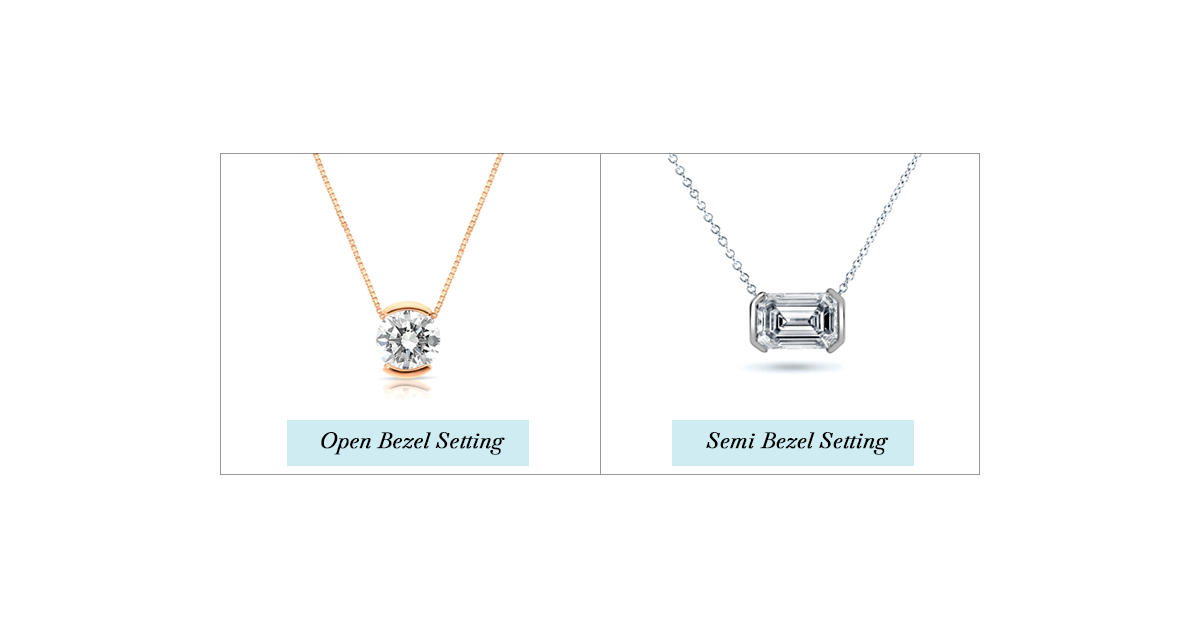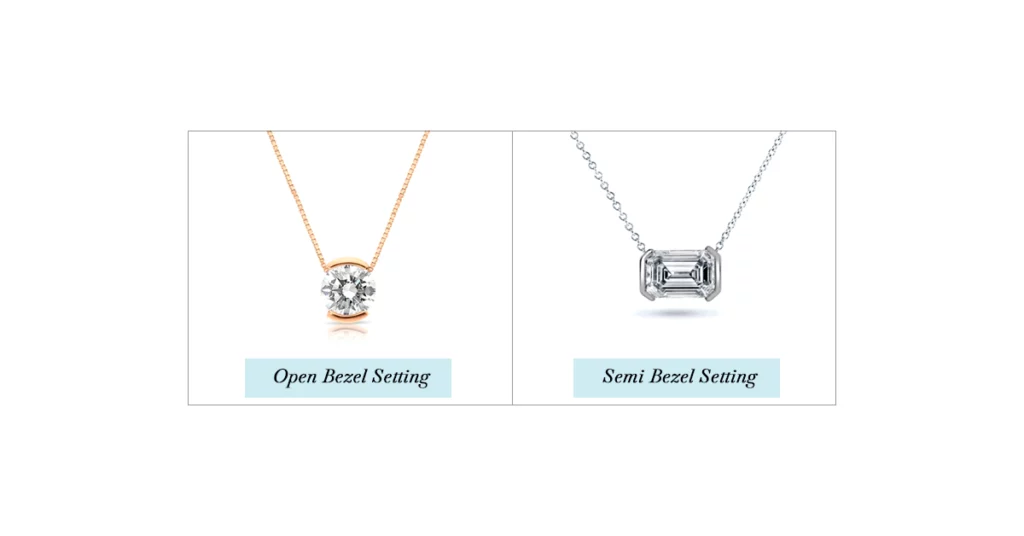 Open Bezel Setting
In an open bezel setting, only two metal plates are placed on either side of the gemstone. The remaining parts of the gemstones are left exposed.
An open bezel setting is highly popular for precious and translucent gemstones as the light can enter the gemstone from multiple directions.
Semi Bezel Setting
A semi-bezel setting can be understood as a hybrid between a bezel setting and a prong setting. Two sides are secured using metal prongs, whereas the remaining two sides are protected with a bezel setting. This setting is used for highly-priced statement jewelry pieces like engagement rings, vintage necklaces, promise rings, etc
Conclusion
Each of the bezel-setting necklaces can add great charm to your personality and look. Bezel-set necklaces are easy to maintain due to their high security, durability, and uniqueness. If you want to invest in a cost-effective statement necklace, a bezel set necklace is an appropriate choice for you.
You can check out some unique bezel set necklaces at La Joya. We have plenty of options in various shapes, metal types, colors, and sizes. Give us an opportunity to serve you without statement pieces. See you soon!
FAQs about Bezel Set Necklace
1. How can I clean my bezel set necklace properly?
You might need some professional help to clean your bezel set necklace properly. Without specialized tools, you won't be able to reach and clean out the dirt and dust accumulated within the metal rim.
However, for regular cleaning, you can soak your bezel set necklace in a mild cleaning solution and then wipe it clean with a soft cloth.
2. What is the most appropriate chain length for the bezel set necklace?
The chain length for your bezel set necklace depends on your personal preferences and sense of style. However, some of the typical placements you can choose are 16 inches, 18 inches, 20 inches, and 24 inches.
3. Can I stack my bezel set necklace with other necklaces?
Yes, you can easily stack your bezel set necklace according to your personal preference and sense of style. You can stack it with contrasting color gemstones or diamond pieces to add a pop of color to your look.
There are no strict rules as to what can be stacked with your bezel set necklace. You can experiment with the look and have fun expressing your personality creatively.
4. Does a bezel set necklace come in different shapes and styles?
Three of the most common styles of the bezel set necklace are half bezel, open bezel, and semi bezel. In half bezel, only half of the gemstone is enclosed in a metal rim, leaving the other half exposed.
In an open bezel, the gemstone is held in place by two small metal plates on both sides, leaving the rest of the gemstone exposed. A semi-bezel is a mix between a bezel setting and a prong setting. As for the shape of the bezel set necklace, you can get in any shape you desire.