Diamond Bar Necklaces
Diamond Bar Necklaces
Diamonds
Gifts
Necklace Designs
Necklaces
Scouring through diamond necklace collections but can't decide which one to gift? Diamond bar necklaces are here to solve your problem.
This elegant piece features a sleek bar held by a sturdy chain representing love and commitment. Wondering what makes a diamond bar necklace the perfect gift for special moments?
Dive in to find out!
What Makes Diamond Bar Necklaces a Great Gift?
Diamond bar necklaces possess many different qualities, making them a great present. Let's go over them one by one.
1. Symbolic Value
Diamond bar necklaces have rich and deep symbolic value. They represent a love that has no beginning or end and the commitment of a lifetime, making them a great gift for your spouse, parents, children, and friends.
As a symbol of everlasting elegance, success, and wealth, diamond bar necklaces represent a kind of sparkling fortune and priceless beauty.
Also, diamond bar necklaces symbolize the stability and strength of people and relationships, making them suitable for celebrating milestones and occasions.
2. Versatility
Going to an office party or a casual date but confused about which type of necklace to wear? A diamond bar necklace can solve your problem.
Diamond bar necklaces are simple and, as a result, extremely versatile. It makes a perfect gift for every occasion, whether an anniversary, birthday, wedding, graduation, or any other special event.
3. Personalization
Diamond bar necklaces are highly personalizable. Everything from size, shape, and cut to color can be customized. You can even get messages, coordinates, and the initials of a loved one engraved on the bar.
Gifting a loved one a diamond bar necklace with their name inscribed on it makes them feel unique, valued, and cared for. Consequently, this gesture makes the occasion memorable and leaves your loved ones with memories they will cherish forever.
4. Minimalistic and Complementary
In fashion, minimalism is becoming more valued today. Since diamond bar necklaces have a simple design, they are becoming a popular choice these days.
Owing to their minimalistic nature, diamond bar necklaces serve many purposes. They bring attention to the nuances, such as their fine craftsmanship, the brilliance of their materials, your neckline, and more. Besides this, they accentuate and complement other jewelry pieces.
5. Earth-friendly
Mining for natural diamonds causes widespread deforestation and damages the earth's fragile ecosystem. Meanwhile, lab-grown diamonds are created in laboratories and have the same chemical composition as natural diamonds.
As a result, diamond bar necklaces crafted from lab-grown diamonds are conflict-free, eco-conscious options. This makes a perfect present for conscious consumers who can shine confidently and guilt-free.
6. Timeless Appeal
Unlike other pieces of jewelry, diamond bar necklaces are highly durable. They resist damage from scratches, heat, chemicals, and wear and tear. When properly taken care of, the sparkling beauty of diamond bar necklaces can last a lifetime.
Over time, the value of diamonds can increase, instead of decreasing like other jewels, making them a great investment. Also, because of their timeless appeal and value appreciation, diamond bar necklaces make a great family heirloom and can be passed down from one generation to another.
Popular Diamond Bar Necklace Designs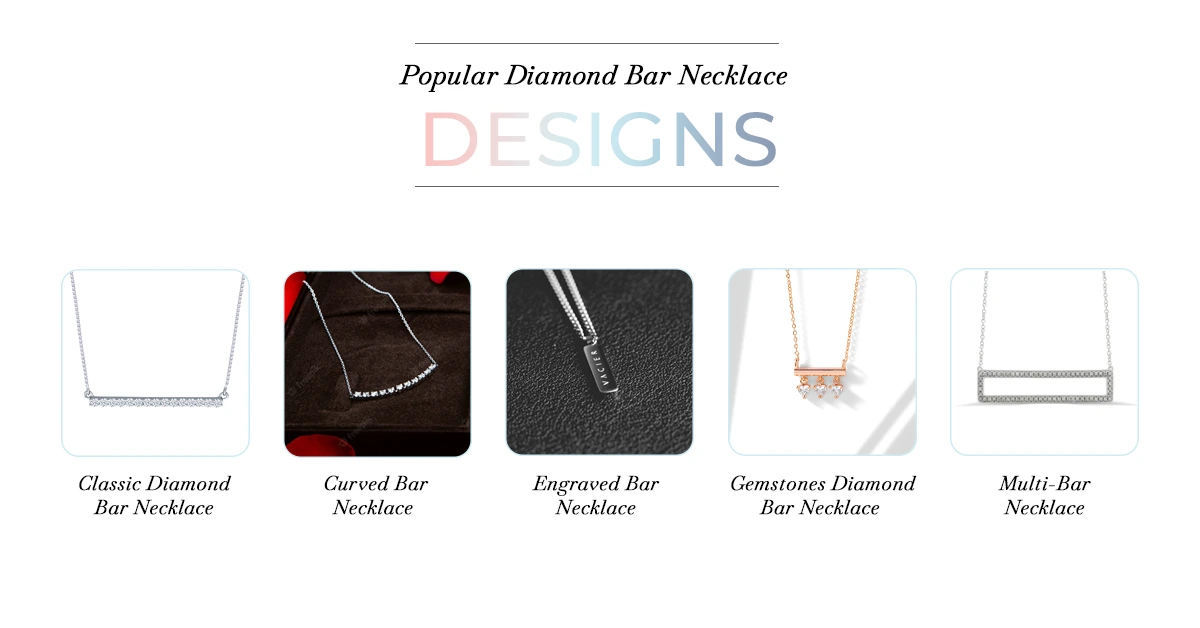 Diamond bar necklace designs, which are in vogue and have high gifting value, include the following:
1. Classic Diamond Bar Necklace
Classic diamond bar necklaces come in two shapes: horizontal and vertical.
In the image, the Sterling Silver Horizontal Diamond Bar Necklace features a horizontal bar covered in sparkling diamonds and an adjustable chain. The charm of this necklace lies in its simplicity and elegance, making it a timeless beauty.
2. Curved Bar Necklace
Curved bar necklaces curve upwards on both ends of the chain and are longer than classic designs.
In the image, the Silver Diamond Curved Bar Necklace features a diamond-studded curved bar with an adjustable silver chain. It looks lovely and radiant with a sophisticated feel, sure to make its recipient feel like a symbol of wealth and success.
3. Engraved Bar Necklace
With an engraved bar necklace, channel your creativity and get anything you like engraved.
For instance, the necklace features a vertical bar with a person's name engraved elegantly. Similarly, you can get your spouse's name or wedding date engraved, giving the necklace a personalized look and making your spouse feel special at the same time.
4. Gemstones Diamond Bar Necklace
When opting for gemstones, choose diamonds, which lend a great flair to your bar necklace.
For example, the Gemstone Diamond Bar Necklace features three shiny heart-shaped diamonds held to a golden horizontal bar by three circular loops. The necklace exudes style and class, guaranteed to make the recipient feel loved and luxurious.
5. Multi-Bar Necklace
Multi-bar necklaces contain more than two bars that make up different geometrical shapes.
For instance, the Rectangle Shaped Diamond Bar Necklace features four sterling silver bars covered with rows of glimmering diamonds and held together by a silver chain. It looks glamorous and exquisite, significantly improving the recipient's personal style quotient.
Wrapping Up
Diamond Bar necklaces are an emblem of eternal love, strength, and elegance. They are highly versatile, personalizable, durable, and possess a timeless charm. Made in designs ranging from horizontal and curved bars to engraved bars, diamond bar necklaces make great gifts for every occasion.
Interested in buying a diamond bar necklace but worried about your budget? Check out wallet-friendly, earth-friendly, customizable diamond bar necklaces at La Joya.
FAQs about Diamond Bar Necklaces
1. What does a diamond bar necklace mean?
A diamond bar necklace signifies everlasting love, elegance, strength, and commitment in a relationship between two loved ones.
2. What can I engrave on a diamond bar necklace?
You can engrave many things on a diamond bar necklace. For instance, you can engrave the name of your loved one or both of your initials. You can engrave the coordinates or the name of the place where you met your spouse. You can engrave the birthdates of your children and many other memories.
3. How should I gift a diamond bar necklace?
Encase your diamond bar necklace in a jewelry box to preserve its luxurious appeal. Attaching a heartfelt note at the top of the box is a great idea. Alternatively, you can gift the necklace along with flowers or through a surprise delivery to the recipient.
4. When should I gift a diamond bar necklace?
Gifting a diamond bar necklace is an effective way of showing your gratitude, love, and appreciation towards a loved one. So, you can give a diamond bar necklace to a loved one on any occasion, ranging from a birthday or anniversary to special holidays like Christmas.
5. Can the recipients wear a diamond bar necklace every day?
The recipients can wear a diamond bar necklace daily as long as they take good care of it. Taking good care involves storing the necklace in its jewelry box when not wearing it, cleaning it with a dry cloth regularly, and removing it whenever indulging in gardening or water-based activities like swimming.
6. What are the health-related benefits of wearing a silver bar necklace?
There are many health-related benefits to wearing a silver bar necklace. Silver is an antimicrobial agent that may prevent flu and expedite healing. Secondly, positively charged silver ions are said to improve blood circulation and regulate body temperature. Lastly, wearing a silver diamond bar necklace is supposed to regulate one's body's energy levels and promote better sleep quality.