Wedding Band
Bride
Groom
Wedding Bands
For many couples, planning for a wedding can feel like planning for the rest of their lives. In addition to picking out a venue, choosing bridesmaids and groomsmen, and deciding on food and music, one of the most important decisions to make is what kind of wedding bands to buy. But with so many styles and designs available, it can be difficult to decide which ones match and which ones don't. Do wedding bands have to match? Does the bride's ring have to match the groom's? In this blog post, we will explore all your options when it comes to choosing wedding bands for both the bride and groom. Read on to learn more!
What is the tradition of Wedding Bands 💍?

The tradition of wedding bands can be traced back to Ancient Rome, where brides and grooms would exchange rings made of iron during their betrothal ceremony. The rings would symbolize the couple's everlasting love and commitment to each other. In medieval times, the wedding ring became a symbol of ownership, with the groom's ring conveying that he owned his bride.
This tradition carried on into the Victorian era when wedding bands were seen as a sign of status and wealth. Today, Wedding bands are a symbol of love and commitment, with couples often choosing to wear matching bands as a sign of their unity. In the past, wedding bands were given to the bride by her family as a symbol of her new status in the family. Today, wedding bands are usually a matching set that the bride and groom pick out themselves.
When it comes to wedding bands, most Western cultures place them on the third finger of the left hand. The tradition started because people believed that there was a vein, what we typically call vena amoris that ran directly from that finger to the heart. While that may not be true, the sentiment behind it is still romantic.
Do the Bride and Groom's Wedding Bands have to match?
Historically, wedding bands have long been seen as a symbol of unity, with couples choosing bands that match both color and metal. This was seen as a way for couples to show their commitment to one another, and the matching bands served as a physical representation of their relationship. However, the simple answer to this question is no, bride and groom's wedding bands do not have to match.
Many couples choose to have mismatched wedding bands as a way to express their style. Choosing mismatched wedding bands can avoid one partner from feeling pressured to choose a matching wedding band he or she doesn't love. Also, it gives the freedom to choose the ring that best compliments your skin tone and size and reflects your style.
However, many couples prefer matching wedding bands. As they feel that having matching bands is a symbol of their togetherness 👫 or a way for them to express their unity. Matching bands could also give the couple a way to show off their commitment to each other. It may be important to you to get a design that your significant other will also appreciate. The fact that they wear the same style as you can confirm your compatibility and make you feel closer to them.
While in the past it was more common for wedding bands to match, there is no longer any definitive rule or etiquette you must follow. Ultimately, it is up to you as a couple to decide what works best for you. People can make persuasive arguments for both having coordinating rings and for having each partner select a ring that reflects their style.
Why do some couples choose not to have matching Wedding Bands?

There are a few reasons why some couples choose non matching wedding bands that do not match. For some, it's simply a matter of preference—they may prefer the look of two different bands, or they may want each partner to pick out their ring. Others may not want to match because they want their rings to be unique to them as individuals.
Some couples also choose not to match because they feel it symbolizes the individuality of their relationship. They may believe that each person's ring should be a reflection of their personality and that two identical rings would be too bland. Whatever the reason, there's no right or wrong answer when it comes to whether or not you should match your wedding bands with your partner's. Ultimately, it's up to you and your partner to decide what works best for you as a couple.
How can you choose the right Wedding Band for you and your partner 👫?

Metal
You'll need to consider the metal type for your bands. Gold is a popular choice, but silver and platinum are also beautiful options. It's important to choose a metal that will complement your engagement ring and wedding dress. People with sensitive skin can go for hypoallergenic metals.
Color

Wedding bands come in all sorts of colors these days. The color of the metal can also have an impact on the overall look of the ring. A yellow gold band will add a warm, classic touch, while a white gold band will add a touch of elegance. However, if you have a light complexion, you might want to consider white or rose gold. And if you're feeling adventurous, black titanium or tungsten can make for a stunning choice.
Finish
A polished finish is very reflective, as it will help to bounce light around the room and a matte or satin finish has a more subtle look and doesn't show scratches as easily. While a matte or satin finish can give off a more delicate and romantic appearance, a polished finish is the most versatile. If you're looking for a versatile finish that can look either professional or glamorous, go with a polished finish.
Design
Your wedding band is an important symbol of your love and commitment, and you'll be wearing it for the rest of your life, so it's important to choose a style that reflects your personal taste. Whether you prefer a contemporary, traditional, or somewhere in between, there's a wedding band out there that's perfect for you.
Stone 💎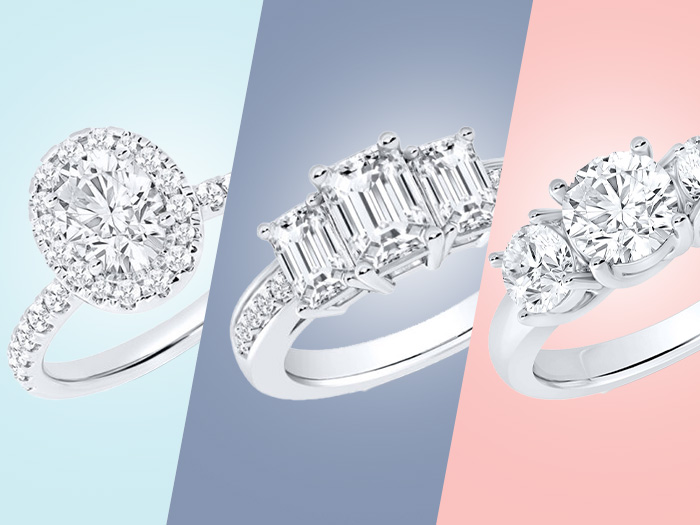 Diamonds, sapphires, and rubies are just some of the stones and gems that many couples choose to put to their wedding bands to make them more personal. While a pavé or channel set wedding band provides a glitz and glamour, choosing to wear them is entirely optional. The wearer should think about their daily routine to make sure the ring is suitable. Bands set with stones are more expensive, therefore cost is another consideration.
The Bottom Line
So, the short answer is that wedding bands for the bride and groom do not have to match if you don't want them to. They don't even have to be gold or platinum for that matter. While we can't tell you whether or not you should wear matching wedding bands, we can tell you that there are several other ways you can incorporate matching wedding rings into your wedding style.
If you're looking for a matching set of wedding bands that will complement your style, check out the La Joya wedding bands collection based on different metal colors and diamond shapes. Whether you want the most enthralling wedding bands in white gold or yellow gold or contemporary metals like sterling silver, our dedicated jewelry consultant will gladly assist you with the best wedding bands online from our popular styles.
FAQS on matching Wedding Bands
Are wedding bands supposed to be a surprise?
There is no set rule that wedding bands have to be a surprise. It is simply a matter of preference. The couples can pick the wedding band together; considering the style, both will love it.
Do couples choose a wedding band together?
It is entirely up to the couple! Some couples may feel that choosing their wedding bands together is a very intimate and special part of the process, while others may prefer to let each person choose their ring. Ultimately, the decision is what couples feel is right for them.
How many carats should a wedding band be?
The average carat weight for a wedding band is between 0.5 and 1.5 carats. However, some couples prefer a more substantial band, with a carat weight of 2.0 or more. But you should remember anything higher than 2.0 makes the ring more prone to breaking and scratches.
Do wedding bands have to be gold?
No rule says wedding bands have to be of gold, but it is by far the most popular choice for couples. Gold is a traditional metal that has been used for wedding rings for centuries, and it's a symbol of everlasting love. Plus, gold is a very strong metal that can withstand a lot of wear and tear, which is important for a ring that's going to be worn every day.