Diamond Circle Necklaces
Diamond Circle Necklaces
Diamonds
Jewelry Pieces
Do you spend time pairing your clothes before going out? Do you do the same for your jewelry? If not, it's time to start.
Pairing the right jewelry pieces helps you achieve a cohesive look, enabling you to make a bolder statement with your outfit. Diamond jewelry, a symbol of success and love, can play a significant role in achieving a statement-worthy look.
Discover how to pair a diamond circle necklace with other jewelry pieces for an elegant ensemble.
Tips for Matching Other Jewelry Pieces with Diamond Circle Necklaces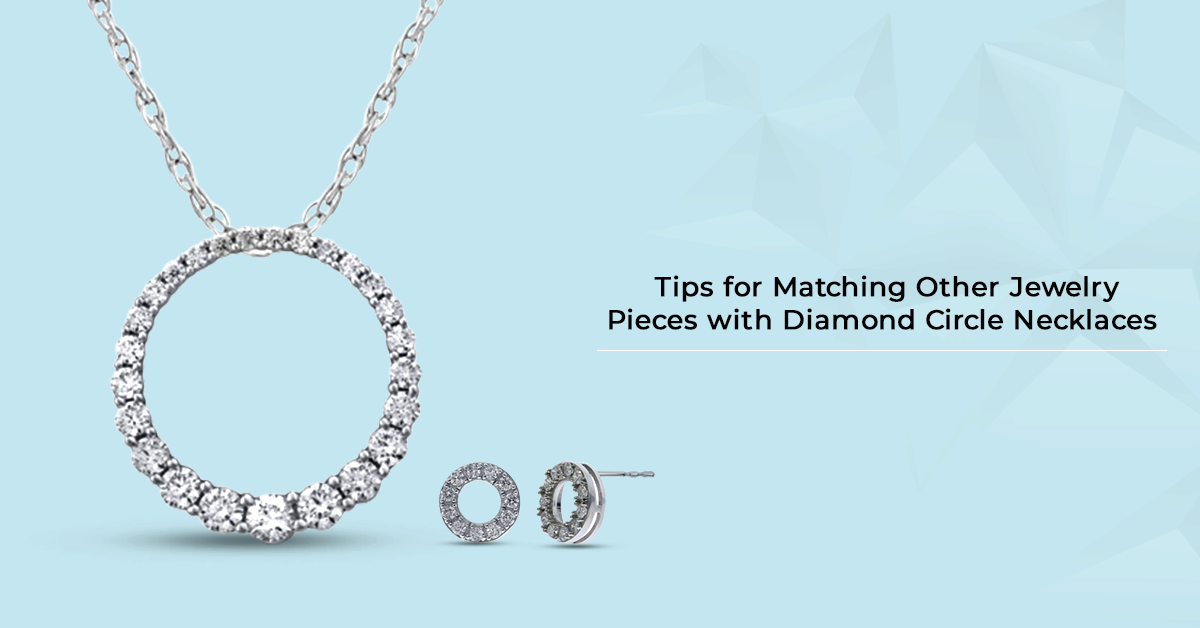 Here are some tips and strategies that can help you match jewelry pieces and add a touch of luxury, cohesion, and class to your look.
1. Select a Focal Piece and Point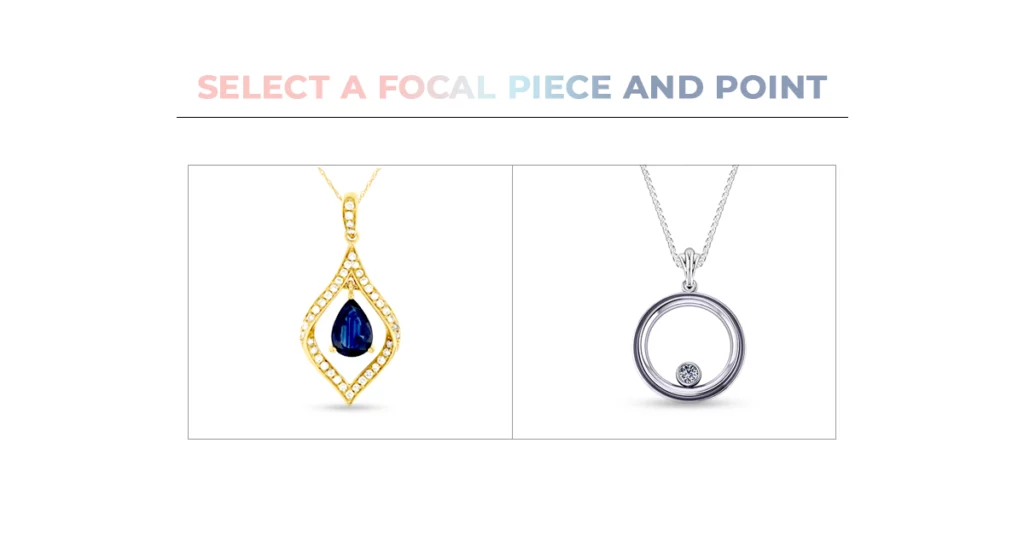 While matching jewelry pieces, you need to start somewhere. Decide on a focal point or region. The latter could be your neck, ears, wrist, or fingers. Once you have selected one, choose a focal piece of jewelry. This could be a bracelet, ring, earring, or necklace.
For example, you can choose your neck as the focal point and a diamond circle necklace as the focal piece. In this scenario, the diamond circle necklace acts as an eye-catcher, while the ensemble of other jewelry pieces and your outfit complements it to complete your look.
2. Consider the Tones
Tones play an important role in matching jewelry pieces. So, let's talk about the two types: the primary tone (jewelry's tone) and the undertone (skin tone).
Jewelry pieces have their own language; every jewelry piece conveys a different message. While a diamond circle necklace represents fortune, love, strength, and the circle and wholeness of life, a gemstone necklace signifies femininity, delicateness, and refinement.
When it comes to skin tones, white gold and silver metal colors suit the cooler skin tones better, while rose and yellow gold metal colors accentuate warmer skin tones.
3. Mix the Metals
Gone are the days when mixing metals was discouraged; nowadays, it's embraced and even celebrated. You can combine silver, rose gold, bronze, white gold, and many other metals in one ensemble.
For example, you can wear a blend of silver and gold metals on your wrists, neck, and fingers to achieve a colorful look. But, if you want to go for a more vibrant aesthetic, blend as many metals as possible. While doing so, remember to mix them evenly to retain the element of cohesion.
4. Layer Jewelry Pieces
Layering involves stacking pieces of jewelry one after the other. It adds an extra dimension and aura of interest to your look.
To layer jewelry, hone in on a statement piece and subtly layer additional pieces. For example, the diamond circle necklace can be the center statement piece, and you can layer it up with a shorter delicate pendant necklace and a longer diamond cross necklace.
In case you want to layer rings or bracelets, pairing heavy-looking rings with thinner bracelets or heavy intricate bracelets with simple ones is a great idea.
5. Play with Color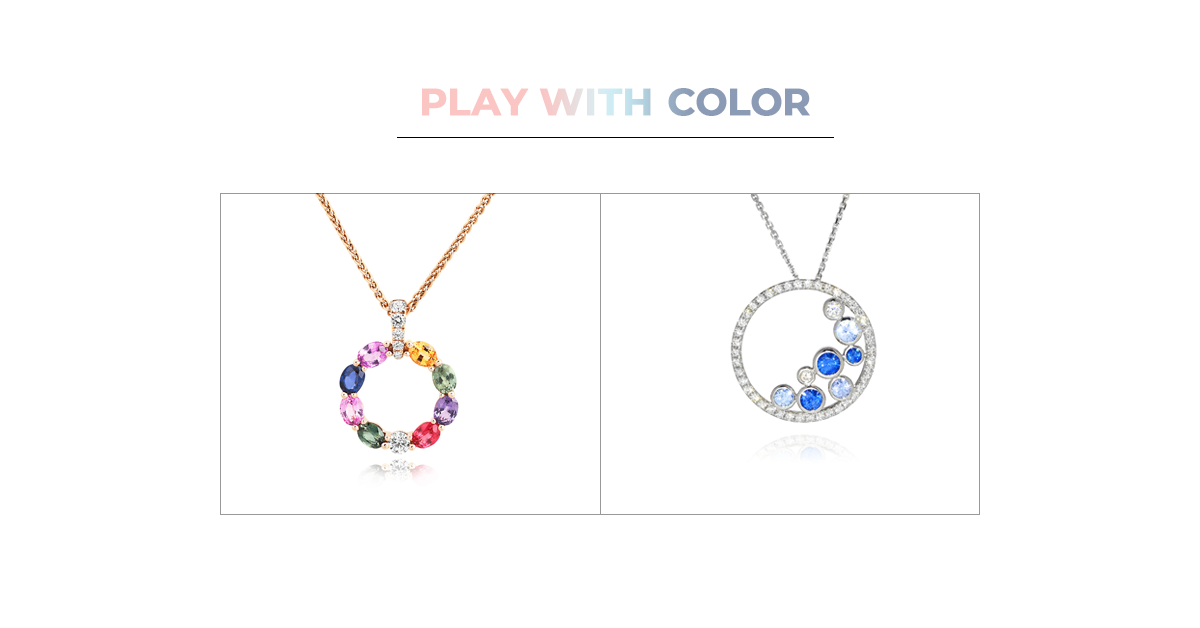 You can easily get lost in the silver and gold color jewelry range. While that's completely fine, playing with colors is essential if you want to add an interesting element to your look.
Begin by considering the colors in your outfit. You can match or contrast the jewelry color with your outfit's hues. For example, if your outfit has light or neutral colors, contrasting it with vibrant gemstone earrings, sparkling diamond necklaces, or beaded bracelets can make you stand out in the crowd while adding a touch of flair to your ensemble.
6. Balance it out
Want to look easy on the eyes? Balancing out your jewelry pieces is key. How can you do that? Start by considering your jewelry's size, shape, and proportion.
For instance, if you wear an understated delicate-looking diamond circle necklace, combine it with dainty bracelets and small earrings to achieve a harmonious look. Alternatively, if you wear a bold diamond circle necklace, match it up with similarly-shaped and proportioned circular earrings, bracelets, and rings to maintain balance and achieve a visually appealing look.
While balancing, it's important to remember to choose jewelry that maintains the symmetry of your look.
7. Mix Low and High-end Pieces
While everyone loves designer jewelry, not everyone can afford it. And that's completely okay! You can still pull off a polished look. Combining low-end and high-end jewelry pieces can make you look stunning without leaving a dent in your bank account.
Let's consider an example. Pairing a vintage diamond circle necklace with a thrifted pair of stylish earrings can make you look luxurious. Alternatively, pairing vintage rings, bracelets, and earrings with a modern glimmering diamond circle necklace can add a touch of beauty and class to your look without costing a fortune.
8. Keep in Mind Occasions and Personal Preferences
Matching jewelry pieces according to the occasion is important. Correctly pairing jewelry can elevate your outfit and overall look. If you don't want to make a fashion faux pas, have a look at what's appropriate to wear at which occasion –
For formal events, it's often best to match sophisticated and elegant pieces like a diamond circle necklace with other diamond jewelry.
For casual events, experiment and pair bold and fun jewelry pieces.
If you are wondering what to wear on a day-to-day basis, know that matching minimalistic and simple jewelry pieces works well.
Since jewelry is a medium of self-expression, it's crucial to match jewelry pieces while keeping your personal style and preferences in mind whenever you go out.
The Bottom Line: Break the Rules and Explore
Matching jewelry pieces can feel daunting. But the good news is that by breaking the fashion rules, following the tips given above, and experimenting, it's doable and even fun.
Exploring different combinations per your personal style can lead you to discover interesting, personalized, and stylish jewelry pairings that do wonders for your look.
If, at any point, while exploring, you feel like adding a new piece of jewelry to your collection, don't start worrying about your budget. Instead, check out wallet-friendly, earth-friendly, high-quality diamond jewelry pieces at La Joya.
FAQs on Diamond Cirlce Necklace
1. What does wearing a diamond circle necklace symbolize?
A diamond represents elegance and love, while a circle represents eternity. Thus, wearing a diamond circle necklace symbolizes everlasting love, grace, success, and a wholesome life.
2. Is a diamond circle necklace versatile?
A diamond circle necklace goes with every piece of jewelry and is appropriate for every occasion, thanks to its versatility.
3. On which occasions can I match and wear jewelry pieces?
You can typically match jewelry pieces like diamond rings, necklaces, bracelets, and earrings to wear on occasions such as weddings, workplace and birthday parties, anniversaries, casual dates, holidays like Christmas, and more.
4. Can wearing silver and gold jewelry together cause an adverse impact?
Since gold and silver metals – in close contact – don't cause any chemical reaction, it's safe and even aesthetically appealing to wear a combination of silver and gold jewelry.
5. How can I take care of all my jewelry pieces?
Taking care of jewelry pieces prevents them from looking dirty and dull with time. It elongates their life and ensures they stay in the same mint condition as the day you bought them.
To take care of jewelry pieces, follow these tips:
Clean your jewelry pieces regularly with a soft, dry cloth. Avoid cleaning it with a wet cloth or harsh chemicals.
Store your jewelry pieces in a secure jewelry box or any other safe, dry place when not wearing them.
Remove your jewelry whenever participating in an activity that involves water and chemicals, such as swimming and washing dishes.