Diamond Cross Pendants
Diamond Cross Pendants
Diamonds
Wardrobe
A diamond cross pendant is a popular fashion accessory. This pendant is versatile and can be worn for many different reasons.
This classy yet timeless piece of jewelry adds a distinct element of style to every possible clothing piece in your wardrobe.
If you own high-quality, stylish diamond cross pendants, you can enhance your look and style and make sure to incorporate them into your everyday wardrobe with relative ease.
A unique piece of jewelry, a diamond cross pendant, also has a religious meaning or sentimental value. It adds the perfect statement to any wardrobe and allows you to experiment and find a style that suits you the best.
All you need to remember here is that your cross pendant is not just an accessory but a statement of your personal look and style.
This guide will explain multiple ways you can incorporate your stylish diamond cross pendant into your daily wardrobe and look your best wherever you go.
Top Ways To Incorporate Diamond Cross Pendants Into Everyday Wardrobe
Here are some ways to use your diamond cross pendants in your everyday wardrobe and enhance your style quotient.
Wear It Daily Without Hesitation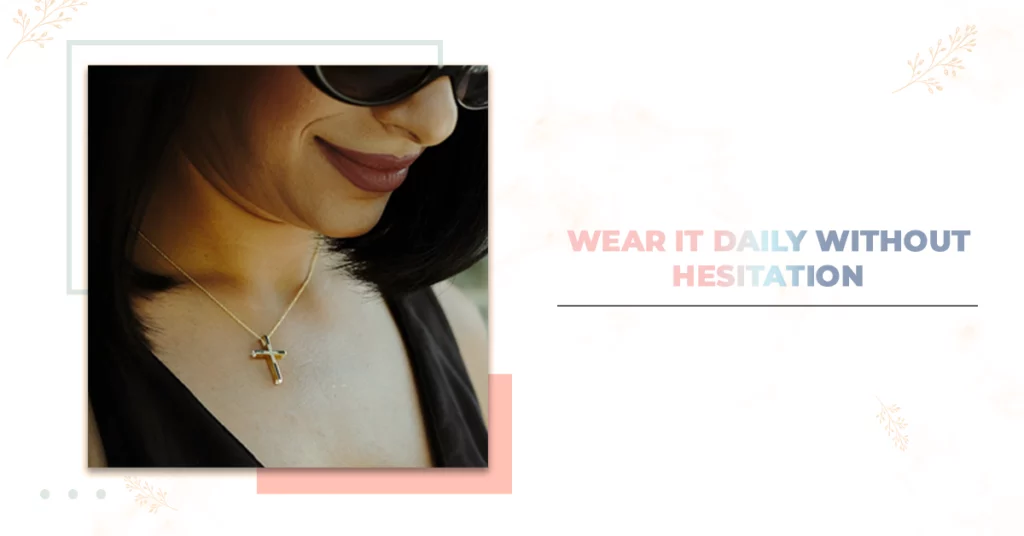 First and foremost, wear your diamond cross pendant daily, as it is a wonderful addition to your jewelry wardrobe.
There are various styles and designs to choose from, and you can easily find the one that matches your personality and outfit.
Apart from this, it is also important to keep in mind that you can wear it as a distinct statement piece to dress up or down your outfit.
Let Your Diamond Cross Pendant Be The Centerpiece Of Your Outfit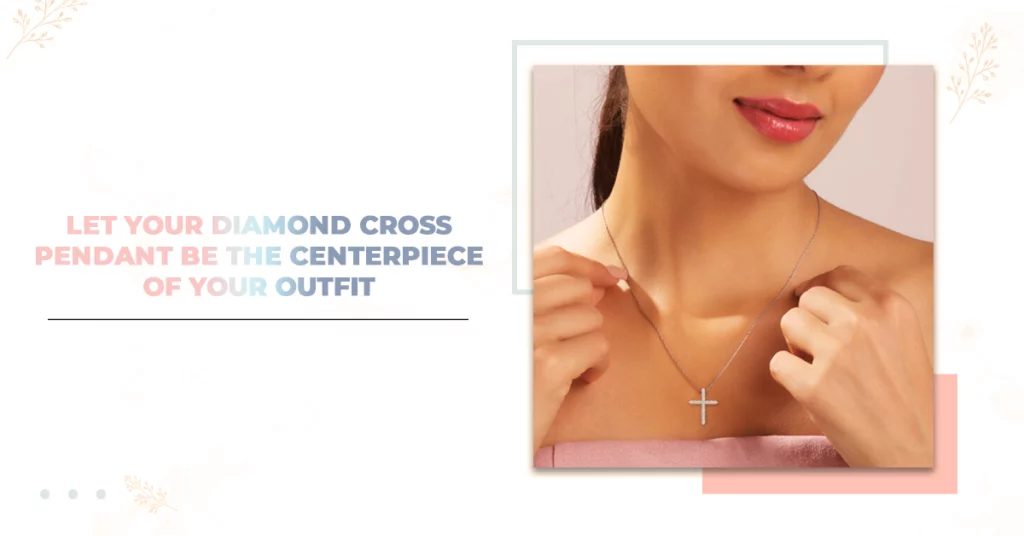 One of the best ways to style your diamond cross pendant necklace would be to let the pendant be the main or centerpiece of your outfit. You can then accordingly plan the rest of your outfit per the pendant you wear.
This means that your pendant will be the most prominent or the only piece of jewelry you wear. For people who like to wear multiple accessories, you can match other jewelry pieces to ensure that the cross pendant is the highlight of your look.
Use Your Diamond Cross Pendants For Both Casual And Party Wear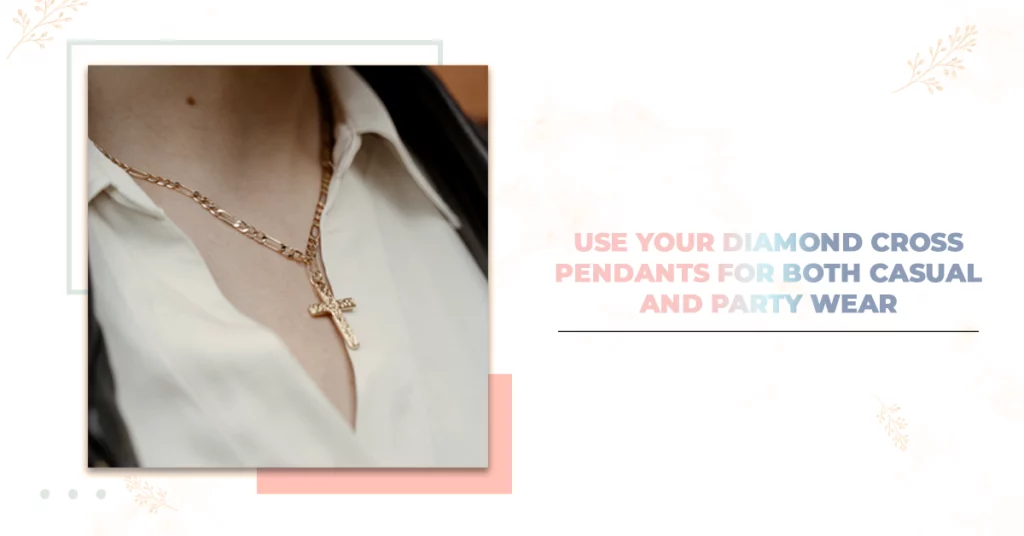 Whether planning a fun casual outing with friends or going to a formal party event, you can play with your diamond cross pendants by styling them with any attire.
The best part of the diamond cross pendant is its enriching design. This design is the perfect accessory that will complement casual attire and fit right in if you've to dress for a special event.
Since it is a classic and sleek piece of jewelry, it doesn't impact your dressing and gels well with your everyday fashion needs.
Pair Your Diamond Cross Pendant With The Right Clothes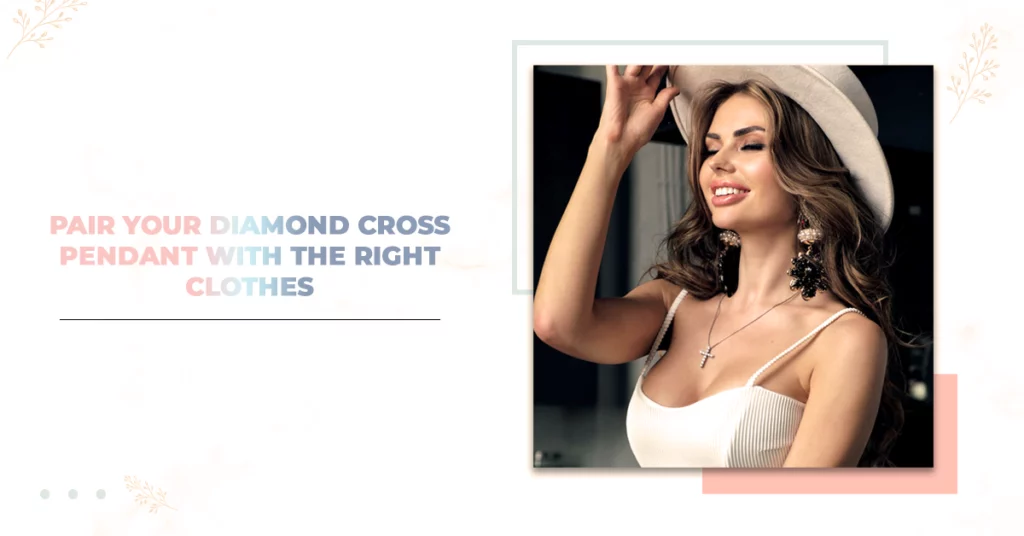 Another way to ensure that your diamond cross pendant stands out and yet goes with your everyday wardrobe is to wear it with the right clothes.
For instance, you can wear an off-shoulder top or a dress with a neckline that will compliment the style and length of your pendant. You can also wear it over a polo sweater or with a tank top.
Another benefit of diamond cross pendants is that when you're stepping out for a special occasion or a casual dinner with friends, you can wear them without any worry. This is because diamonds complement many different colors and fabrics and are right for any occasion.
Style It With Other Accessories
To be able to incorporate your diamond cross pendant into your everyday wardrobe, it is also important to understand how a pendant works (or doesn't) with other accessories you plan to wear.
For instance, if you're wearing a big cross pendant, make sure to accent it with smaller things. So you can stick to simple arm jewelry such as a small bracelet and minimal rings instead of wearing big hoops or dangly earrings.
Remember that you need to keep your accessories from competing against each other. Especially if you wish to make your cross pendants part of your everyday styling.
Conclusion
Diamond cross pendants are the most stylish piece of jewelry that you can effortlessly incorporate into your everyday wardrobe. These pendants come in various designs and patterns, bringing an effortless charm and allure to your personality.
If you are also looking to enhance your style quotient by adding diamond cross pendants to it, look no further than La Joya. We have a wide range of beautiful yet stylish diamond cross pendants in various colors and metals to choose from.
Check them out today.
FAQs about Diamond Cross Pendants
1. How to buy diamond cross pendants?
Crosses in the pendant category come in varied designs, such as plain crosses, Celtic crosses, and crucifixes. Once you are sure of the type of cross, the next thing to consider here is your personal sense of style, choices, and wardrobe.
Investing in cross jewelry that uniquely speaks to your style and matches several of your outfits is best. This way, you can incorporate it into your daily wardrobe by mixing and matching outfits and accessories to curate classy, stylish, and elegant looks.
2. What is the ideal chain length for a diamond cross pendant?
The ideal chain length for a diamond cross pendant varies based on various factors, such as personal comfort and style. Generally, a chain length between 16 and 18 inches is the best as it allows the pendant to sit near the collarbone comfortably.
3. Can I wear a diamond cross pendant every day?
Yes, you can easily incorporate your favorite diamond cross pendant in your everyday wardrobe unless you fear losing it. However, it is important to take appropriate precautions to protect the pendant from any kind of damage, such as exposure to harsh chemicals.