Diamond Bar Necklaces
Diamond Bar Necklaces
Diamonds
Necklaces
Bar necklaces have evolved into a huge style statement of late. And why not? Celebrities like Emma Watson, Kim Kardashian, Margot Robbie, Blake Lively, and others sporting this trend have captured everyone's imagination.
It is a versatile piece of jewelry that complements any outfit you wear. Moreover, you can wear it for all occasions, from boardroom meetings to parties. No wonder bar necklaces are turning into a staple accessory for the fashion-conscious.
If you are yet to flaunt this style statement, it's time you took the plunge. Not sure where to begin? Don't worry because we have your back.
Today, we will explore some celebrity-inspired diamond bar necklace styles. We shall also reveal how to get the look for less.
What Is A Bar Necklace?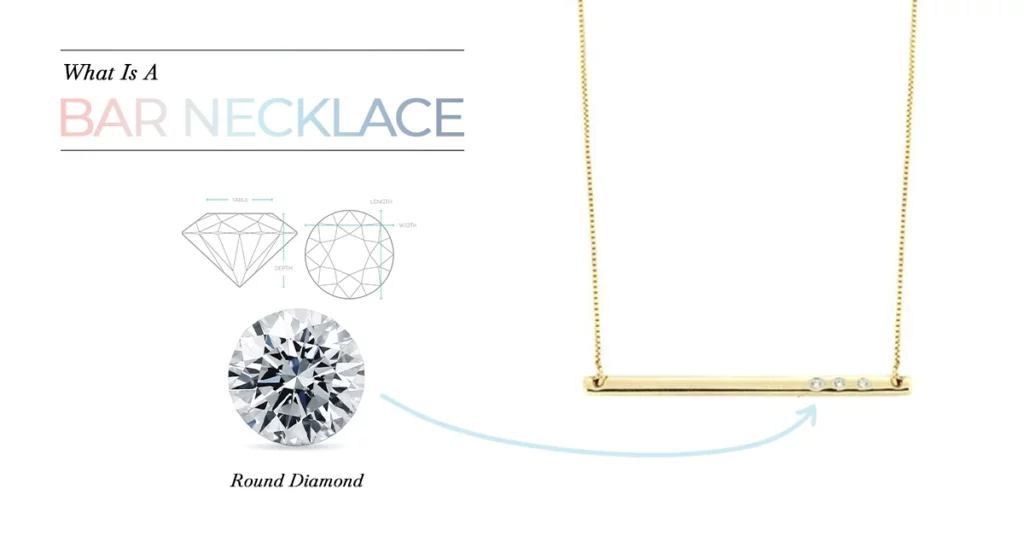 A bar necklace is a trendy neckpiece that features a bar-shaped pendant as its centerpiece. The pendant has a long and narrow structure. You can orient it either horizontally or vertically.
What Makes Bar Necklaces So Popular?
The elegance and uniqueness of a bar necklace make it so popular. Since the bar comes in various shapes, sizes, and designs, it offers countless options to highlight your distinct fashion sense.
Whether you want something to resonate with your understated style or flaunt your cool fashion aesthetics, you can never go wrong with this neckpiece.
You can even opt for customizable bar necklaces to add a personal touch to your jewelry fashion. If you love flaunting the layered look, you can easily team up a bar necklace with other neckpieces to create an exotic style statement.
Types Of Bar Necklaces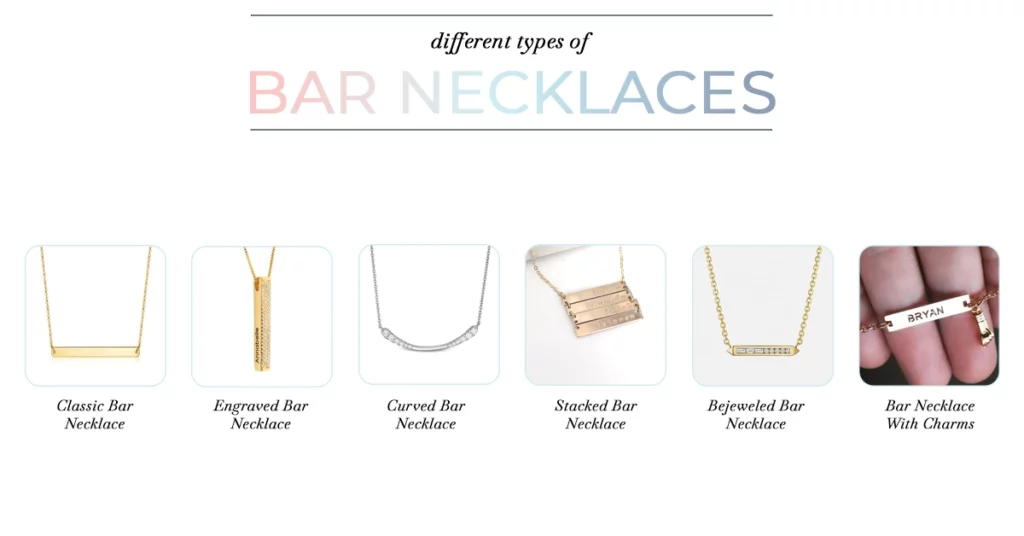 The concept of a bar necklace may indicate minimalist fashion. But that doesn't mean this necklace lacks variety. Rather, it comes in varying styles to suit your fashion sensibilities.
Take a look at some of the trendy bar necklace designs:
Classic Bar Necklace
The classic variety comprises a plain straight bar hanging from a chain. You can go for a bar crafted out of any metal, including silver, gold, platinum, etc.
The beauty of the classic bar necklace lies in that it can amp up your fashion quotient instantly, no matter what you are wearing.
Engraved Bar Necklace
As the name indicates, this variety offers you the option of flaunting an engraved neckpiece. You can engrave your name, a special message, a symbol, a memorable date, or anything you like on the bar and wear it close to your heart every day.
Curved Bar Necklace
This type of necklace has a curved bar attached to the chain horizontally. Curved bar necklaces are sometimes greater in length than the traditional varieties.
Stacked Bar Necklace
A stacked bar necklace features multiple bars placed one above the other, all forming a single piece. You can either go for similar bars or mix and match the designs.
Bejeweled Bar Necklace
A bejeweled bar necklace features a bar studded with gemstones.
When it comes to stone-studded bar necklaces, the options are endless, including diamond bar necklaces, 3-stone bar necklaces, rainbow stone bar necklaces, and more.
Bar Necklace With Charms
If you love charms, this necklace is just right for you. It comes with a bar that has one or more charms pre-attached to it.
You can opt for various charms to feature in your necklace, including shaped charms, gemstone charms, and even charms with your initials on them.
Top 5 Celebrity-Inspired Diamond Bar Necklaces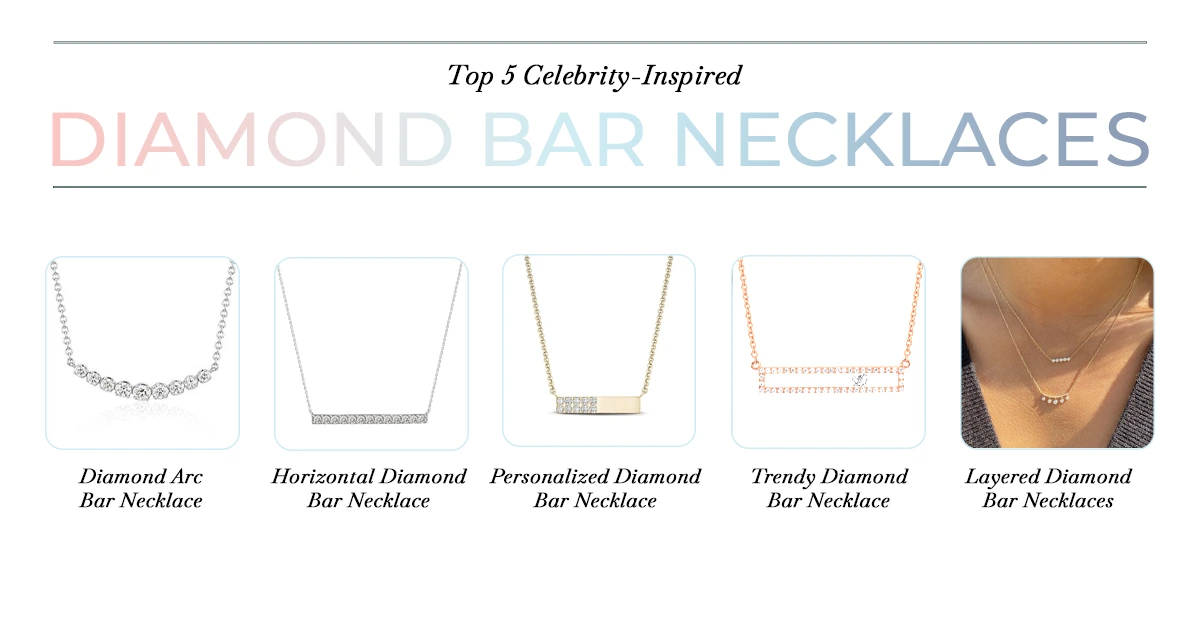 Celebrities are known for their evolved sense of fashion. There's no denying that they are at the forefront of inspiring trends. Of late, their love for diamond bar necklaces has given rise to several trends involving this jewelry.
Following are some of the top celebrity-inspired diamond bar necklace styles:
Diamond Arc Bar Necklace
An arc bar necklace, aka curved bar necklace, is a great piece to accentuate your neckline. Several celebrities, including Emily Blunt and Tatiana Maslany, have sported this style.
Such a diamond bar necklace can easily place you under the spotlight when embedded with diamonds. It is an easy and effective way to add a bit of glamour to your look.
The best part about this style is that you can wear it solo for a look of eternal elegance or layer it with other chains for a chic vibe.
Horizontal Diamond Bar Necklace
The horizontal diamond bar necklace is ideal for adding loads of charm and femininity to your getup. It is a cool, minimalist style, made popular by Emma Watson and other celebs.
Such a necklace can take your look to the next level instantly.
You can pair this necklace with dainty earrings to maximize its impact. It is one of those striking accessories that can help you easily transition from daytime to evening.
Personalized Diamond Bar Necklace
An engraved bar necklace can be a great addition to your accessory collection. This necklace style has been gaining huge popularity thanks to the likes of the Kardashian sisters. In fact, Kim Kardashian has been seen sporting this style on multiple occasions.
If you prefer wearing personalized jewelry, this necklace style is a must-have. You can opt for an engravable bar with a single diamond or multiple diamonds. Just ensure that the bar design you select has enough space to accommodate the name, date, or symbol you want to engrave on it.
Trendy Diamond Bar Necklace
A bejeweled bar necklace can boost your getup even when you are in the simplest of outfits. Opt for a show-stopping design like Bella Hadid, and you can steal the limelight wherever you go!
When it comes to diamond bar necklaces, the options are many and varied. You can make your pick from sleek designs to match an understated look. Alternatively, you can go with a fascinating design to highlight your whimsical side.
Layered Diamond Bar Necklaces
Wearing a layered bar necklace is a tried and tested formula to glam up your whole look and add a fine finishing touch to your getup. Celebs like Jessica Alba have always known this secret, and so they can be seen sporting this style confidently.
The beauty of this style lies in the fact that you can play around with the number and style of necklaces. There's no set rule to limit the number of necklaces you can layer for a single look. But if you want to keep things simple, you can settle for two or three pieces.
As far as the necklace styles are concerned, you can go for complementary pieces of varying lengths.
How To Get The Look For Less?
Celebrities source their jewelry from top designers and jewelry stores. But not everyone can afford such luxury. The good news is that now you can recreate the celebrity-inspired diamond bar necklace looks for much less.
By opting for lab-grown diamond bar necklaces, you can flaunt the latest trends at a much-reduced cost. All you need to do is look for a reliable jewelry store with authentic lab-grown diamonds and order your favorite necklaces without straining your purse strings.
Conclusion
A diamond bar necklace can turn your look from ordinary to wow in an instant. It is just what you need to add a whole load of glamour and pizzazz to your getup.
If you are wondering where to shop for the latest bar necklace designs, you can explore the collection at La Joya. Whether you want to shop for a celebrity-inspired bar necklace look or an exclusive design, you will find plenty of options. So, head over to the world of exceptional jewelry at La Joya right away!
FAQs about Diamond Bar Necklaces
1. What do bar necklaces symbolize?
A bar necklace represents carrying something close to your heart that matters to you a lot. It can serve as a reminder of a special moment or a cherished day in your life.
2. How to layer diamond bar necklaces?
You can start by taking two or more diamond bar necklaces of varying lengths. Start by adjusting the length of your favorite necklace and continue with the others till you are done. If you are layering up more than 2 necklaces, try to go for an odd number of necklaces.
3. Can I layer a bar necklace with a vertical bar?
Yes, vertical bar necklaces make for stunning layered necklace designs. You can experiment with two vertical bar necklaces or one vertical bar necklace, and one or more horizontal bar necklaces.
4. What should be the ideal length of a bar necklace?
The standard length for a women's necklace varies from 16 inches to 20 inches. Depending on your preference, you can wear your bar necklace at any length from the base of the neck to below your collarbone.