Diamond Circle Necklaces
Diamond Circle Necklaces
Diamonds
Necklaces
Diamonds have been equated with elegance ever since their inception. Embellished with the class of a necklace, diamonds make the ultimate pair of accessories.
A diamond necklace can bode well with anything, be it for casual wear, formal wear, or party wear. This versatility makes them a crowd-favorite, regardless of the occasion. This is especially true when it comes to diamond-circle necklaces.
Their unmatched charm has become a symbol of beauty and grace. The necklace's circular shape signifies neverending love, while the necklace is an embodiment of eternity.
That is why we will learn how this piece accessory has become a glamorous symbol of appeal.
Diamond Circle Necklaces: The Timeless Classic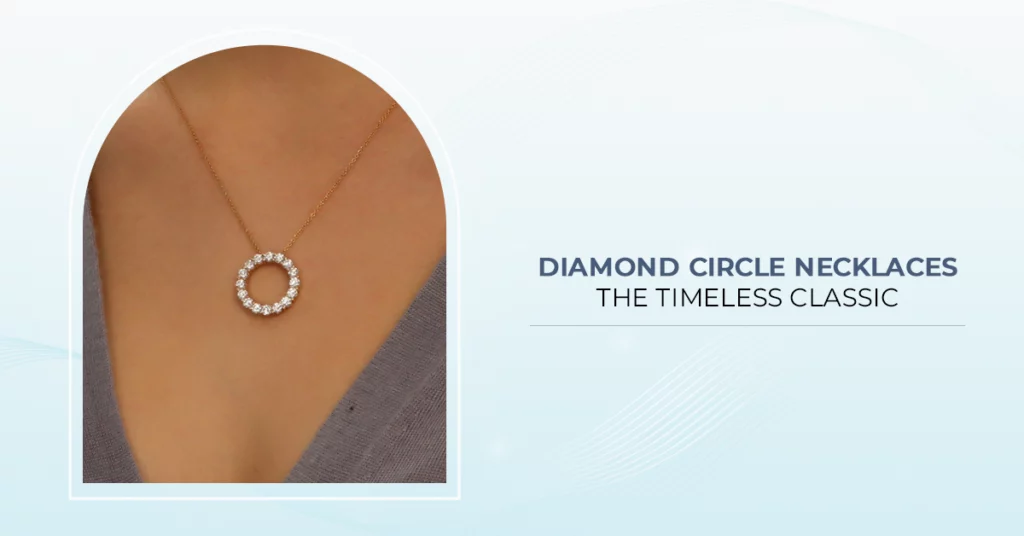 Diamond circle necklaces feature a circular band crafted with silver or white gold. The necklace's band is gilded with diamonds to imbue perfection.
The quality of the necklace depends on the number of diamonds used, its type, metals used, additional gemstones, 4Cs, etc.
Given the popularity of diamond circle necklaces, you can easily pick the ideal one for yourself. With that being said, let us take a look at the different types so you can have an easier time browsing through the vast options:
Top Types of Diamond Circle Necklaces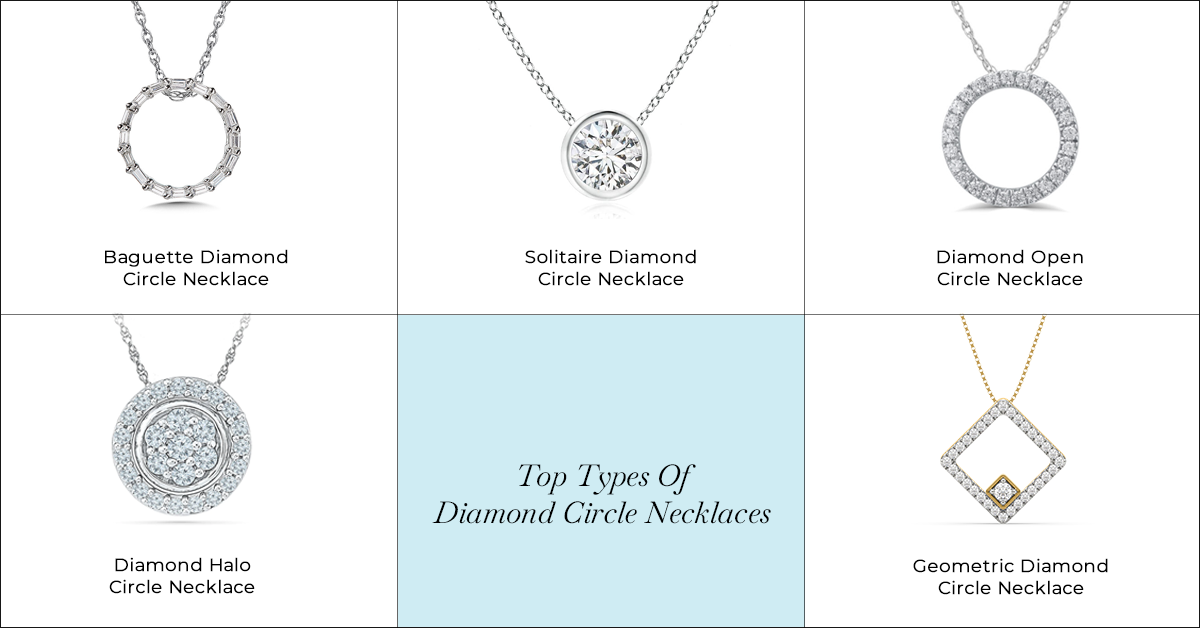 Diamond necklaces can make their way through anyone's heart. They come in different designs and styles, exhibiting a unique look with every option.
Thus, it becomes pivotal to learn what options you have before making the final call:
Diamond Halo Circle Necklace
This design uses a central diamond, usually surrounded by multiple smaller diamonds.
This contrast emphasizes the centerpiece to make it appear larger. Moreover, these types of necklaces ooze off a sparkling effect, making them ideal for joyous events and parties.
Baguette Diamond Circle Necklace
A baguette-cut diamond necklace stands out due to its rectangular shape. This type of necklace can also be set in a circle, using the diamond as either the accent around the pendant or as the primary ornament.
If you are looking for a meaningful gift that celebrates personal or academic achievements, these should be your go-to option.
Solitaire Diamond Circle Necklace
This diamond necklace type features one diamond set within a circular pendant. The diamond is usually the centerpiece and is surrounded by metals like platinum or gold.
Similar to diamond halo circle necklaces, these necklaces are ideal for upscale events, such as award ceremonies, black-tie weddings, or galas.
Diamond Open Circle Necklace
This type of necklace does not use a fully closed circle.
It leaves an open space where the diamonds can be either set inside the circle or across the outline. It exuded an airy and modern feel, making it ideal for a chic look.
Geometric Diamond Circle Necklace
Some diamond necklaces experiment with geometrical shapes to form the circular pendant. Similar to open circle necklaces, these pieces of accessories bode well with a casual outfit without overpowering it.
Vintage Styled Diamond Circle Necklace
As the name suggests, this type of necklace exudes an antique or vintage style.
They generally boast ornate and intricate designs with uniquely arranged diamonds. Their elegant look highly complements bridal attire, adding a hint of sparkle to the look.
Diamond Circle Pendant With Gemstone Accents
Such types of diamond necklaces rely on a circular pendant coupled with multiple gemstones. Besides diamonds, these gemstones can include rubies, emeralds, or sapphires to add a colorful touch.
Since they can be personalized, a diamond circle pendant makes for a thoughtful birthday gift.
Pave Diamond Circle Necklace
A pace diamond circle necklace leverages the pave setting to closely place diamonds on a circular pendant.
It creates a constant surface of diamonds to exhibit a dazzling look. This virtue makes them ideal for a celebratory setting with a colorful tone.
Diamond Infinity Circle Necklace
This type of necklace merges a circular shape with an infinity symbol. It signifies eternal friendship or endless love, making it best suited for anniversaries or significant milestones.
Personalized Diamond Circle Necklace
Customized diamond necklaces are a big hit simply because they let you add a personal touch.
It may be a special date, name, or initial, but these necklaces can be an elegant keepsake with a unification of personalization and diamonds.
Settings For Diamond Circle Necklace
When shopping for diamond necklaces, you cannot simply focus on looks and class. You must also understand the settings to ensure you are making the right choice.
Let us guide you through different diamond necklace settings:
Pave Setting
An intricate and impressive setting that makes for a brilliant look. It uses multiple small diamonds in an adjacent setting that are held together via prongs.
Due to this masterful craft, the necklace appears like a huge single diamond from afar while offering a distinct look up close.
Bezel Setting
Diamond necklaces crafted within a bezel setting offer the utmost security.
It is a gemstone setting where the entire diamond is surrounded and held safely by a thin bezel rim. It circles the entire necklace to facilitate security without hindering the visual appeal.
Illusion Setting
Crafted on reflective metal rings, a diamond necklace in the illusion setting makes the diamond look huge. This optical illusion enhances the overall appearance of the necklace, making it ideal for weddings and fancy events.
Best Diamond Circle Necklaces You Must Try
Even after understanding the standard settings and types of diamond necklaces, it can be tough to pick the best ones. Thus, we will help you glance over some of the most popular diamond circle necklaces you must try.
Lab Created Circle Diamond Pendant Necklace
Designed to represent the circle of life, this diamond necklace features a stylish sterling silver pendant. Coupled with shimmering diamonds, the necklace can complement any attire.
Lab Created U-Shaped Curved Diamond Necklace
This U-shaped diamond necklace bodes well with modern outfits, especially in a casual setting. Made of sterling silver and horizontally studded diamonds, the necklace even offers an adjustable chain.
Lab Grown Diamond Cross Necklace
Want to display your class using a clean cross motif? This stunning necklace will accompany you in a Christian and fashion-centric setting just the same.
Round Cut Lab Grown Diamond Solitaire Necklace
This round-cut diamond solitaire necklace will help you make a subtle yet powerful statement. Its sheer elegance bodes the best in a professional setting.
Lab Grown Diamond Accent Double Heart Pendant Necklace
This diamond necklace can be your symbol of love with two beautifully accentuated hearts. Conjoined by three gentle diamonds, this necklace will make your loved one.
In Conclusion
Diamond circle necklaces are the epitome of class and sophistication. Since these necklaces have different settings and types, they all boast a unique charm. You are sure to find multiple options among diamond necklaces for casual wear, professional settings, and special events.
If you found the information or the necklace type you were looking for, you must check out La Joya. You can find such stunning diamond circle necklaces there in different styles, designs, and settings.
FAQs about Diamond Circle Necklaces
Q 1. Can I wear a diamond necklace in my office?
Yes, multiple diamond necklace types bode amazingly with professional attire. A Simple Solitaire Pendant or a Bezel-Set Diamond Necklace can accompany well for such settings.
Q 2. Can diamond necklaces be given as a birthday or anniversary gift?
Diamond necklaces can make for astonishing gifts due to their versatility. A Diamond Circle Pendant with Gemstone Accents can be a personalized and thoughtful gift for anniversaries and birthdays.
Q 3. How long should the chain of my diamond necklace be?
The ideal chain length for diamond necklaces varies based on style and personal preferences. A chain length of around 16 to 18 inches is the most popular option to keep the necklace close to the collarbone.
Q 4. Should I take specific steps to care for my diamond necklace?
To ensure your necklace's elegance remains unfazed, you must clean it frequently with a solution of gentle soap and mild water. You can use a soft brush for residue and dust. Do not use chemicals or rough materials to avoid harm.
Q 5. Does the shape of a diamond necklace have significant meaning?
A diamond necklace can have different meanings based on its shape. A round-shaped necklace is associated with unity and eternity, while an oval shape is associated with grace and feminity. Similarly, a princess's shape is associated with modernity and elegance.